CHENNAI: It may not be the worst idea to carry an umbrella, if you're at the airport, wearing your Sunday best. After all, you wouldn't want it soiled with pigeon droppings right before you board an enclosed plane with 180 or so others. Even after trying to get their 'pigeon hole' problem sorted out, Airports Authority of India (AAI) officials are stumped at how these birds keep finding their way into th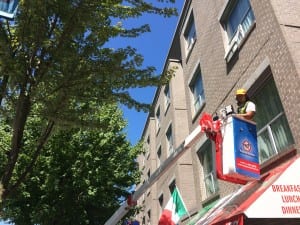 e high-rise terminals. A Jet Airways ticketing staff even laughed about how pigeons were always on night-duty and were the first to 'meet' them when they enter the terminal at 3.30 am every morning.
Recently, a group of pigeons were seen enjoying the bliss of the terminal near the passenger waiting area, on the soft carpets paid for by AAI. "It was quite funny actually. Some of the sweepers tried to shoo them away, but they just hopped off and continued to preen themselves on the carpet. Maybe they wanted air-conditioning," said Reena Makhija, who posted a photo of the pigeons on a social networking site. "Personally, I'm not complaining. It was great fun for the kids to watch the pigeons up close," she added
.
After several complaints about how pigeons were dropping their 'uric acid' pellets on unsuspecting passengers, AAI decided to deploy nets to cover the openings in the roof — but these were found to cause a different problem. "They are dirtying our floors and carpets as well. But by closing the skylights with nets, the lighting became a problem, so we are working out a solution for the trusses," said an official. The ceiling was cleaned a month ago and several partial nests were cleared. But this has not impeded the entry and exit of the pigeons.
AAI had even consulted an expert about this issue last year, but we're unable to find a viable solution. Ornithologist N Sankar pointed out that the openings in the ceiling and the high beams provided a perfect place for birds like pigeons to nest. "In an airport, there are firecrackers on the tarmac nearby used to scare birds away from the planes, so this will seem like a safe place to them," he reasoned. He added that getting them to vacate after they had nested was a difficult task.
About Pigeon Patrol:
Pigeon Patrol Products & Services is the leading manufacturer and distributor of bird deterrent (control) products in Canada. Pigeon Patrol products have solved pest bird problems in industrial, commercial, and residential settings since 2000, by using safe and humane bird deterrents with only bird and animal friendly solutions. At Pigeon Patrol, we manufacture and offer a variety of bird deterrents, ranging from Ultra-flex Bird Spikes with UV protection, Bird Netting, 4-S Gel and the best Ultrasonic and audible sound devices on the market today.
Voted Best Canadian wholesaler for Bird Deterrent products four years in a row.
Contact Info: 1- 877– 4– NO-BIRD (www.pigeonpatrol.ca)