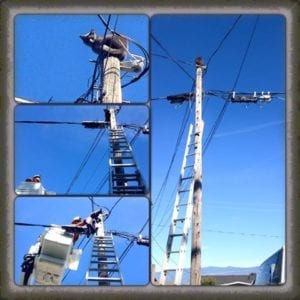 It seems both FortisBC and BC Hydro protocols to deal with animals on power poles has been tested a lot lately, with at least four high-profile incidents in a short timeframe reported across the province. Representatives said it's rare to receive that many calls.
Nicole Bogdanovic, a communications adviser for FortisBC, said they got a call of another cat on a power pole on June 4 just after 9:30 a.m. The crews were already in the Black Mountain area of Kelowna, where the cat found its new perch, so they stopped to help it down.
On June 4, FortisBC rescued a cat who was perched on a live power pole in Kelowna.
Bogdanovic said when considering a rescue, they focus on safety first.
"While calls like this are pretty rare, when we do receive one we have to assess the situation very carefully before responding, and typically the safest situation is for the cat to come down on its own," said Bogdanovic.
"We're relieved that our crews were able to assist in this case."
In this type of situation, they assess the risk a rescue would pose to both the animal and crew, as well as potential service impacts.
She said crews ask a few simple questions before intervening: "Could this cause an outage if it wasn't dealt with, or could this delay our crews in dealing with other issues?"
They also have to make sure the infrastructure belongs to them before they do anything with it.
In the end, it was a happy ending for the cat who was stuck up on a power pole, but it's not always such an easy save.
"A cat on a pole, if it's in distress, could be skittish," Bogdanovic said. "That could cause it to behave unpredictably and be injured in some way.
"We recognize that this is really a tough situation for pet owners to be in and we do what we can to assist, but again, that's usually waiting for the cat to come down on its own."
Just one day earlier, BC Hydro crews had to move two 40-kilogram osprey nests from power poles in Salmon Arm to two newly built nesting platforms nearby.
On June 3, BC Hydro crews moved an Osprey nest near Salmon Arm.
In the last few weeks, the nests caused three power outages to thousands of customers in the area.
Ospreys are a protected species in B.C. and BC Hydro has a permit from Ministry of Forests Lands and Natural Resources to allow the nests to be moved. The birds like to build their nests on the tallest structures they can find, which in some cases means a live power pole. If the nest doesn't pose any risk, workers often wait to move it until it's unoccupied in fall.
Jennifer Walker-Larsen, who works in communications for BC Hydro, said this case was different.
"When osprey nest on energized power lines there is a risk to those nests," she said, "They may short out the lines and they may catch on fire and this can kill and wound birds."
Crews saw that the nest were there and decided to act.
Osprey in the area already had another nesting platform, but Canada geese had taken it over. Nesting Canada geese cannot be disturbed as they are protected under the Migratory Bird Convention Act.
When this happens, the osprey usually tries to build another nest very close to the original site, usually on a nearby power pole.
Workers had to first move the eggs in the nest and then relocate it to a new nesting platform a short drive away. The eggs were placed safely back in the nest.
Over the last weekend in May, BC Hydro crews took the time to rescue a bear in Port Hardy that was camping out on top of a 50-foot power pole.
"There was an immediate risk there that the bear might be electrocuted so we took immediate action.
The 25,000-volt power line was deactivated as crews worked to get the bear down using a cherry picker. After about 10 minutes, the cub came down and ran off into the nearby bushes unharmed.
About 450 Port Hardy customers were affected by the short outage, but BC Hydro is happy to report it was a successful mission.
Larsen said when it comes to dealing with animals on power poles, they assess the situation on a case-by-case basis.
"It really depends on what the risk is to the animal," she said.
When cats are up power poles, BC Hydro workers typically wait three days before attempting a rescue, according to Larson. In the vast majority of cases, she said cats come down on their own and a rescue effort could pose more danger to the animal. If it gets scared when the crew comes up in the bucket to save it, it might try to get away, touching energized lines on equipment.
In April, FortisBC and BC Hydro were both alerted to a cat that had been stranded on a power pole in Princeton for four days.
The hashtag #savethePrincetonBCcat was trending locally, with many people raising concern for the animal.
Once BC Hydro realized it was on their land, they called in a specialized crew to conduct the rescue and got the cat home safe and sound by 9 p.m.
About Pigeon Patrol:
Pigeon Patrol Products & Services is the leading manufacturer and distributor of bird deterrent (control) products in Canada. Pigeon Patrol products have solved pest bird problems in industrial, commercial, and residential settings since 2000, by using safe and humane bird deterrents with only bird and animal friendly solutions. At Pigeon Patrol, we manufacture and offer a variety of bird deterrents, ranging from Ultra-flex Bird Spikes with UV protection, Bird Netting, 4-S Gel and the best Ultrasonic and audible sound devices on the market today.
Voted Best Canadian wholesaler for Bird Deterrent products four years in a row.
Contact Info: 1- 877– 4– NO-BIRD (www.pigeonpatrol.ca)