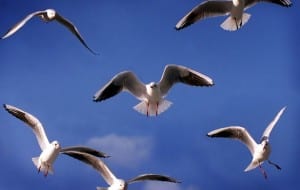 AUGUSTA | As bids were being opened this week in the next phase of renovations to older parts of Augusta Independent School, officials were also being made aware of a support problem with the school clock tower.
And there is an issue with pigeons which had found a portal into the tower, leaving unsavory debris deposits, official said.
"There is screening in the tower to prevent birds from getting in but apparently there was a small opening on the clock that they used to get in," said AIS Superintendent Lisa McCane. "There are literally buckets and buckets of bird feces that have to be properly removed."
The cost of removal and other essential tower repairs will cut into the budget for the project, possibly delaying the replacement of interior doors on the oldest part of the school.
"The doors were the highest cost on the bid, because so many of them are different sizes," she said. "We have a contingency amount built into the budget for the project so, depending on the cost, we should still be able to complete the entire project and the tower."
Combined, the two phase project, which saw an old smoke stack demolished last week and roofs, windows, doors, lighting and tuck pointing yet to be done, is expected to cost around $1 million.
In order to finance both phases of the project, the AIS Board passed a resolution on June 17, relating to and providing for the issuance of $1.055 million principal amount, which may be increased 10 percent, of the school building revenue bonds, she said.
Trace Creek Construction was the successful bidder June 17, for future renovations, McCane said.
Trace Creek Construction provided the lowest cost bid at $357,000 including a $30,000 credit for extending the window delivery and installation schedule, she said.
About Pigeon Patrol:
Pigeon Patrol Products & Services is the leading manufacturer and distributor of bird deterrent (control) products in Canada. Pigeon Patrol products have solved pest bird problems in industrial, commercial, and residential settings since 2000, by using safe and humane bird deterrents with only bird and animal friendly solutions. At Pigeon Patrol, we manufacture and offer a variety of bird deterrents, ranging from Ultra-flex Bird Spikes with UV protection, Bird Netting, 4-S Gel and the best Ultrasonic and audible sound devices on the market today.
Voted Best Canadian wholesaler for Bird Deterrent products four years in a row.
Contact Info: 1- 877– 4– NO-BIRD (www.pigeonpatrol.ca)