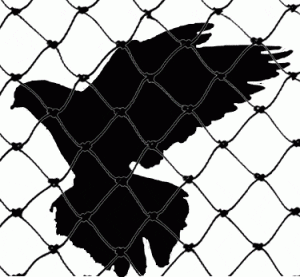 Urgent repairs will be made to netting under a bridge in Shrewsbury following reports that pigeons were getting caught and starving to death.
Shropshire Council said it would send out a team to the bridge near Shrewsbury Railway Station to tackle the problem.
Wildlife experts today urged people in the town not to encourage pigeons in the wake of the issue.
Stuart Edmunds, from Shropshire Wildlife Trust has said the birds have become caught and not been able to get out.
He said: "The netting has been put there under the bridge to stop pigeons from roosting in it. But unfortunately it is only a thin netting and has been ripped away so the pigeons have been roosting there and have been unable to get out. Although they are considered a pest people do feed pigeons and that is one reason they are doing so well in the town. There are lots of different ways to put off pigeons but the way this bridge has been constructed netting is the only option. The easiest way to deter pigeons is to try not to leave too much food out as they become pretty well used to where food is left out. The main this is what the council does which is reducing the number of roosting sites there are. I don't like the word pest that much because pigeons are not like the other kinds of pests. But a pest is like rats or mice – it is anything that develops a relationship between themselves and human activities. The main problem is pigeons flying and dropping their waste all over the place."
Following reports of the pigeons getting caught in the netting, Shropshire Council has said it will send a team out to repair it as soon as possible.
Tim Sneddon, Shropshire Council's environmental maintenance manager, said: "The railway bridge is owned and maintained by Network Rail. However, the former Shrewsbury & Atcham Borough Council entered into an agreement with them to maintain the underside of the netting, which Shropshire Council took on responsibility for in 2009. We regularly attend to undertake repairs when lorries catch the netting. Some birds do get access from the track side, and Shropshire Council are unable to do any works to stop that."
About Pigeon Patrol:
Pigeon Patrol Products & Services is the leading manufacturer and distributor of bird deterrent (control) products in Canada. Pigeon Patrol products have solved pest bird problems in industrial, commercial, and residential settings since 2000, by using safe and humane bird deterrents with only bird and animal friendly solutions. At Pigeon Patrol, we manufacture and offer a variety of bird deterrents, ranging from Ultra-flex Bird Spikes with UV protection, Bird Netting, 4-S Gel and the best Ultrasonic and audible sound devices on the market today.
Voted Best Canadian wholesaler for Bird Deterrent products four years in a row.
Contact Info: 1- 877– 4– NO-BIRD (www.pigeonpatrol.ca)