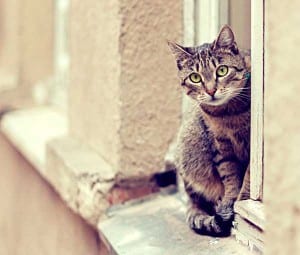 A York Township woman is allowed to continue operating a stray cat program that has one of her neighbors booby-trapping her flower bed with plastic forks and knives to fend off felines.
After three hours at a zoning hearing, Karen Stephenson won her appeal against a township-issued cease-and-desist order, allowing her to continue her unofficial trap, neuter and return program to reduce the number of feral cats in her Raylight Drive neighborhood.
Neighbors who opposed Stephenson complained about felines constantly running through the area, an overload of feces and cats settling in on their porches, destroying their flower beds and lounging on and under cars.
Township zoning officer Lisa Frye had cited Stephenson for a violation of "Reasonable Enjoyment of Surrounding Property."
Forks and knives: Stephenson testified that she now feeds — with the intent of trapping and fixing — about 20 cats twice per day.
Township attorney Steve Hovis asked several residents to testify about the effect the cats are having on the neighborhood.
Some produced photos of cats lounging in numerous positions in neighboring yards and porches.
Resident Pat Landis said she's unable to leave her garage door up because of the roaming cat population.
Cat feces has completely destroyed her flower boxes, which she must now cover with chicken wire, she said.
Advertisement
She also has resorted to strategically placing plastic eating utensils — such as knives and forks — in the beds to keep the cats out.
Resident Ann Azeill testified that the cats have destroyed her pool deck and gardens and that the smell of cat urine and feces makes it impossible to enjoy her yard.
She said her dogs get sick from eating the cat feces, although the dogs are kept in her yard.
Azeill said there is always a "parade" of the felines to the Stephenson house around 5 a.m., when she supposed they were being fed.
The parade is on again in the late afternoon, she said.
She added that leaving food out draws potential undesirables, such as skunks and opossums that can carry rabies.
Resident Jane Sentz said she has come out on her front porch to find cats sprawled out on her porch swing and rocking chairs and even lying on her car's convertible top.
Neighbor George Landis testified that cats constantly running through the streets create danger for drivers trying to avoid them, and also for the cats.
"We're under siege, and can you please help us out?" he said.
The other side: Resident Amy Nelson testified that she has lived in the neighborhood for about 20 years, and there has always been a problem with stray cats.
"She (Stephenson) didn't start the problem, don't punish her for something that isn't her fault," Nelson said.
Christine Arnold is founder of Nobody's Cats, a nonprofit formulated to reduce the population of feral cats.
Arnold testified she has 25 years of experience in dealing with free-roaming cats.
"TNR does not cause the problems; it mitigates them," she testified.
Once the cat is trapped and spayed or neutered, the tip of the left ear is then snipped off, so anyone can tell which ones have already been fixed.
Stephenson said she began the practice in about 2011 and has continued to lessen the population, but it takes time to get the cats to trust people enough to allow themselves be trapped, she said.
Zoning hearing board member John Myers said that if Stephenson were only feeding the cats and didn't intend to have them spayed or neutered, that would fall under the township's "vague" nuisance ordinance.
Board colleague Timothy Salvatore said Stephenson could have done a better job of educating the neighbors with what she is trying to do, but he said the program "provides a greater good than the harm it creates."
About Pigeon Patrol:
Pigeon Patrol Products & Services is the leading manufacturer and distributor of bird deterrent (control) products in Canada. Pigeon Patrol products have solved pest bird problems in industrial, commercial, and residential settings since 2000, by using safe and humane bird deterrents with only bird and animal friendly solutions. At Pigeon Patrol, we manufacture and offer a variety of bird deterrents, ranging from Ultra-flex Bird Spikes with UV protection, Bird Netting, 4-S Gel and the best Ultrasonic and audible sound devices on the market today.
Voted Best Canadian wholesaler for Bird Deterrent products four years in a row.
Contact Info: 1- 877– 4– NO-BIRD (www.pigeonpatrol.ca)