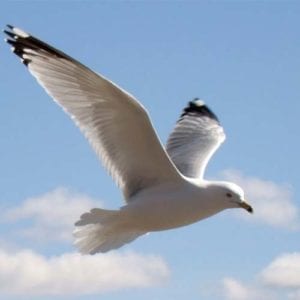 People living near a railway bridge in Frome say they have been plagued by pigeon faeces since an £8,000 pest control project forced the flock to move.
Felicity Young, who lives near the Rodden Road railway bridge, said around a dozen birds have taken up residence on the roof of her house and are bombarding her property from above.
She said the smell of faeces is overwhelming and is worried the birds may be damaging her home.
Pigeon-proofing spikes were installed on the bridge at a cost of £8,000 in November.
Frome Town Council and Network Rail teamed up to solve the problem of bird droppings under the bridge and chipped in half the money each.
Ms Young's fire extinguisher has been peppered in bird feceas
Since spikes were installed there has been a reduction in the number of pigeons on the bridge, but a few remain.
A large number appear to have moved to a nearby telegraph pole and are continuing to defecate on the footpath below.
Ms Young thinks some of them have also moved to her house.
She said: "Since the works were carried out on Rodden Road railway bridge, a dozen or so pigeons have taken up residence on the roof of my house, so I have had a very unpleasant experience.
"You can see the sort of mess they are causing, not to mention the smell. As I cannot access my roof I have no idea what other damage they might be causing up there.
"The pigeons only appeared once the spikes were fitted at the bridge, and I had never had pigeons roosting on my roof before that. I'm not sure if other houses are affected in the same way as although they settle for a while on neighbouring roofs along New Road at dusk, they then roost overnight on mine. Last night I estimate there were at least a dozen.
"I have been in touch with the town council which has suggested it may have to consider a cull. It can't come soon enough for me."
A large number of pigeons have taken up residence on Ms Young's house
Another resident recently voiced concerns at a town council meeting over the continued presence of pigeons in the area.
She said: "I've been campaigning to have spikes put under that bridge for six years and now that we've got them it has had an effect on the pigeons underneath – there are a limited number still there.
"The problem still remains on a telegraph pole just next to the bridge however. The pigeons are continuing to poo on the footpath below and when it gets wet the path can become incredibly slippery.
"There must be around 40 pigeons on that pole at any given time."
Some have even moved to a nearby telegraph wire
She said: "The footpath (near the bridge) has not been cleaned and it's still very sludgy. You would have thought that when the spikes were installed the path would have been cleaned."
Frome town councillor Colin Cobb said: "We have been dealing with this issue for a while now. There are a few bits that have been missed under the bridge but there are certainly far fewer pigeons than there were before.
"With regards to the cleaning of the footpath, The Landscape Group should have seen to that and it is something we will have to chase up with them.
"It's difficult for us to police the telegraph pole. There were some 50 pigeons living under the bridge so it's natural that they would now look for somewhere else to sit."
Frome Town Council has been approached for further comment.
About Pigeon Patrol:
Pigeon Patrol Products & Services is the leading manufacturer and distributor of bird deterrent (control) products in Canada. Pigeon Patrol products have solved pest bird problems in industrial, commercial, and residential settings since 2000, by using safe and humane bird deterrents with only bird and animal friendly solutions. At Pigeon Patrol, we manufacture and offer a variety of bird deterrents, ranging from Ultra-flex Bird Spikes with UV protection, Bird Netting, 4-S Gel and the best Ultrasonic and audible sound devices on the market today.
Voted Best Canadian wholesaler for Bird Deterrent products four years in a row.
Contact Info: 1- 877– 4– NO-BIRD (www.pigeonpatrol.ca)