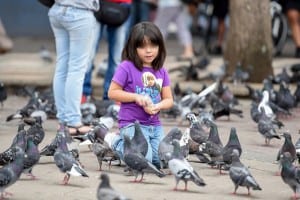 Leaving bread for waterfowl or other animals in Wilmington could soon lead to civil or criminal penalties, a step city lawmakers hope will address a fowl problem at one park.
Wilmington council members voted Thursday to expand a ban on feeding pigeons in public locations to include waterfowl, other types of birds, and wildlife. The measure also applies to private property where permission has not been granted.
The bill, passed in a unanimous decision, was primarily crafted as a response to an increasing number of bird droppings from seagulls at Cool Spring Park. Residents have said at least one person leaves loaves or pieces of bread, attracting the waterfowl to the park and causing pavement, benches, and drinking fountains to accumulate bird feces.
However, the city's existing laws only prohibited people from feeding or leaving food for pigeons and did not identify any other types of wildlife.
"This was a park where we just spent millions and millions of dollars and we had to be calling public works to clean it and there's families there with children and it's just one of those things we had to address," said Councilman Charles "Bud" Freel (D-District 8), the bill's primary sponsor.
The bill would be enforced by the city police department with civil penalties and possible criminal offenses doled out to violators.
The bill also contained language allowing homeowners to have bird feeders for "songbirds," so long as they didn't become public nuisances.
Many ornithology experts warn against feeding pigeons bread or other household foods. The National Audubon Society wrote last year that bread, fresh or stale, essentially serves as junk food for birds and does not benefit their nutrition.
Nonetheless, two council members weren't convinced the bill was worth passing.
Councilman Robert Williams (D-District 7) said he felt the actions of a "rogue individual" in city parks shouldn't prompt a policy that would could lead to criminal penalties for visitors who just want to feed the birds. He said it was hypocritical to ban feeding birds based partially on their nutritional needs while shooting down his proposal to ban smoking in city parks two years prior.
"I imagine the grandmoms and the grandpops taking their grandkids to the park to feed duckies and an officer having to tell them they're breaking the law," he said.
Supporters argued the problem is relatively isolated but still needs to be addressed.
"This is what happens when the neighbors call it in and they complain and they try to work with the city departments and nobody wants to be accountable for it," said Councilwoman Maria Cabrera (D-At Large).
Some residents said it was unfortunate that the problem required legislative action but hope it will improve the condition the park.
Richard Caplan, a resident of nearby Rodney Court apartment building, said the park's appearance has suffered because of the feces. He also said leaving food outdoors attracts rats and other rodents.
"I don't see it as a very healthy or seemly practice," he said.
Councilwoman Loretta Walsh (D-At Large) said the fecal matter left behind by waterfowl has caused thousands of dollars in damage.
"Like everything else in this country, it all comes down to poop, doesn't it?" she said.
About Pigeon Patrol:
Pigeon Patrol Products & Services is the leading manufacturer and distributor of bird deterrent (control) products in Canada. Pigeon Patrol products have solved pest bird problems in industrial, commercial, and residential settings since 2000, by using safe and humane bird deterrents with only bird and animal friendly solutions. At Pigeon Patrol, we manufacture and offer a variety of bird deterrents, ranging from Ultra-flex Bird Spikes with UV protection, Bird Netting, 4-S Gel and the best Ultrasonic and audible sound devices on the market today.
Voted Best Canadian wholesaler for Bird Deterrent products four years in a row.
Contact Info: 1- 877– 4– NO-BIRD (www.pigeonpatrol.ca)