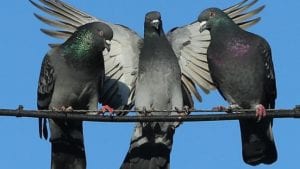 I was reading a story in a magazine not too long ago that referred to eating pigeons. I guess back in the good old days eating pigeons or squab was as natural as eating quail or pheasant. I am glad that I did not get to participate in that ritual! I just don't have an urge to dine on a pigeon.
I am sure that eating pigeons that live in the rural areas is not that bad. They feed on grain just like our other upland birds, so it is probably just like eating mourning doves. I just have these images of pigeons in parks in the cities and they do not look appetizing to me. I may not love to eat pigeons, but I sure do like to shoot them. Over the years, I have had opportunities to shoot the fast flying birds and it is quite a lot of fun. The hunts that took place were set up to eliminate birds that had become a nuisance on a farm. Pigeons are known for making a big mess!
There are other pigeons that I enjoy shooting, but they are made of clay. Shooting clay pigeons, or trap as it is called in shooting circles, is a hoot. Not only is it a great time, it is a fantastic way to keep your shotgunning skills honed. I got introduced to trap shooting my sophomore year at Kansas State University. The same guy that got me started dove hunting also encouraged me to tag along when he went trap shooting at the trap club west of Manhattan on Highway 24. I went with him on a Thursday evening shoot, and I was hooked. It also got me started in the shell reloading mode in order to keep up with the demand for all the shells I was going through.
Back during that time frame, there were trap shoots taking place in Sabetha out at the airport. I would come home occasionally during the fall, and there was usually a trap hunt that would attract a fair number of shooters. There were prizes such as hams or bacon for the winners and it was a great time. By the time pheasant and quail season rolled around, the shooting skills were honed to the point that misses on rising birds were rare. I was coming into Manhattan from the west on Highway 24 a couple of weekends ago and I drove past the trap range, which is still in operation. It brought back great memories and spurred me into action. Due to a lack of shooting opportunities over the years, I can promise you that my shooting skills have deteriorated.
Shooting trap is the perfect remedy for that problem. I plan on purchasing some birds this fall to plant and shoot so I know I need to do a little practicing. Sunday afternoon I gathered up my equipment, and my son-in-law and I headed outside to shoot a little trap. I pulled a Remington Wing Master 870 20-gauge pump to use as the firearm. Adam had never shot trap before, and I was anxious to let him have at it. I have a very simple clay pigeon thrower that tosses up to three targets at a time if you so desire. It was very inexpensive and does the job nicely. A box of clay pigeons is very cheap and contains 135 targets.
For sessions such as this, I use Estate shotgun shells, which are a cheaper shell to shoot if you are not reloading. For trap shooting, it is much more pleasurable to use the 20-gauge. It is more than adequate for the task and actually makes you a better shot. We got set up and began the session. Adam went first and he got himself set and smoked the first target. I was thrilled beyond words. It is not easy to just step up and shoot a shotgun and hit a flying target. We spent the next 45 minutes busting clay pigeons. It felt great to get back in the groove. I am telling you that smoking one of those fast flying clay targets is very satisfying.
No, you cannot eat one of these pigeons, but who really wants to eat a pigeon anyway? With the upland bird season on the horizon, get out there and shoot some trap and get back in the groove. It is a great feeling!
About Pigeon Patrol:
Pigeon Patrol Products & Services is the leading manufacturer and distributor of bird deterrent (control) products in Canada. Pigeon Patrol products have solved pest bird problems in industrial, commercial, and residential settings since 2000, by using safe and humane bird deterrents with only bird and animal friendly solutions. At Pigeon Patrol, we manufacture and offer a variety of bird deterrents, ranging from Ultra-flex Bird Spikes with UV protection, Bird Netting, 4-S Gel and the best Ultrasonic and audible sound devices on the market today.
Voted Best Canadian wholesaler for Bird Deterrent products four years in a row.
Contact Info: 1- 877– 4– NO-BIRD (www.pigeonpatrol.ca)