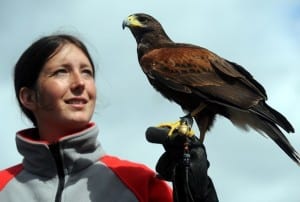 KANAZAWA, ISHIKAWA PREF. – A falcon takes off in a flurry of motion from the arm of a falconer at Kanazawa Station in Ishikawa Prefecture as tourists stand enthralled.
Surrounding landmarks such as Tsuzumi-mon, a wooden gate in the motif of traditional Japanese hand drums, and a modern glass dome named Motenashi, after the word for hospitality, provide a compelling backdrop for the remarkable exhibition.
Set amid such conspicuous structures, its small wonder that Kanazawa Station was recently lauded for its beauty by a U.S. travel magazine.
"Cool!" one spectator cheered. "Impressive!" commented another.
Though it has all the trappings of a tourist attraction, the avian display is actually driven by a crucial mission: keeping pigeons, and their regular aerial bombardments, away from the station.
Pigeon droppings had been a source of concern for city officials since the dome, which was completed in 2004, was in its design stage. From around 2008, local pigeons began using it to shelter from inclement weather as well as from their enemies. For a city that hosts one of the world's most beautiful train stations, this was a serious concern.
At first, the city tried nets, then wires and pigeon repellent — all to little effect. Their droppings, meanwhile, continued to sully the buildings and were the scourge of tourists.
In dire straits, a section chief at the city government's road management department, Masahiro Fujita, consulted with a bird control company managed by a falconer in an attempt to get a handle on the situation. The grand opening of the extended Hokuriku Shinkansen Line was not far off.
From June 2015, trained falcons began to circle Kanazawa Station twice a week, and after two months, the area's roughly 100 pigeons had disappeared. Each day of patrolling costs ¥30,000, and the city set aside nearly ¥500,000 for the campaign under its budget for the current fiscal year to March 2017.
"No large-scale construction work is needed. It only involves one person and a falcon," Fujita said, emphasizing the method's cost efficiency.
To the delight of the local tourism industry, the falconry also proved a hit with visitors to the city of Kanazawa, which is an old castle town.
The falconry is also attracting attention from overseas visitors. Falconer Takayuki Yoshida was questioned and photographed so much that he set up a signboard with an explanation in Japanese and English.
"I like it. It goes well with the atmosphere of the station," said Satoru Kawauchi, a 36-year-old visitor from Tokyo who watched the patrol.
According to the Japanese Falconers' Association, a nonprofit organization, falcons have come to carry out a wide range of assignments, including tackling problems with wild bird droppings at factories and reducing the number of aircraft bird strikes. Some falconers have started businesses, an association official said.
About Pigeon Patrol:
Pigeon Patrol Products & Services is the leading manufacturer and distributor of bird deterrent (control) products in Canada. Pigeon Patrol products have solved pest bird problems in industrial, commercial, and residential settings since 2000, by using safe and humane bird deterrents with only bird and animal friendly solutions. At Pigeon Patrol, we manufacture and offer a variety of bird deterrents, ranging from Ultra-flex Bird Spikes with UV protection, Bird Netting, 4-S Gel and the best Ultrasonic and audible sound devices on the market today.
Voted Best Canadian wholesaler for Bird Deterrent products four years in a row.
Contact Info: 1- 877– 4– NO-BIRD (www.pigeonpatrol.ca)