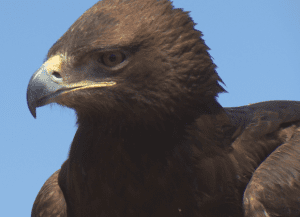 The University of Canterbury (UC) hopes a native falcon will eradicate hundreds of pigeons plaguing the campus.
In its latest move to reduce the pigeon population, a karearea bird – as pictured on the $20 banknote – has been trained to make territorial flights to scare off flocks of pest birds from buildings and the campus.
Marlborough Falcon Trust handlers Vikki Smith and Rob Lawry have been free-flying the specially bred one-year-old karearea, called Tappe, in what is believed to be the first programme of its kind in New Zealand.
Marlborough Falcon Trust handler Rob Lawry hopes Tappe, a karearea bird, will stop University of Canterbury's pigeon problem.
DEAN KOZANIC
Marlborough Falcon Trust handler Rob Lawry hopes Tappe, a karearea bird, will stop University of Canterbury's pigeon problem.
UC engineering services manager Rob Oudshoorn said the pigeon problem had "escalated dramatically" since the quakes when central city roosting spots were pulled down.
Combined with an abundance of food from the ruined city and the campus' proximity to town, the university's pigeon population has ballooned into the hundreds and affects more than 20 buildings.
The falcon is the university's latest innovation to solve the problem after unsuccessful attempts using electric fencing, spikes and controlled culling with slug guns, Oudshoorn said.
Excrement is the biggest problem the birds bring as it piles around doors, windows, footpaths, and roofs, he said. Where pigeon numbers are high, buildings deteriorate more rapidly and the spread of disease increases.
"And depending on the scale of it, it can become quite an issue. In the extreme if it's left there for a long period of time, those piles of excrement bring in maggots, and the excrement itself is pretty toxic too really."
With a population of around 6000, karearea are rare. They are a natural predator to pigeons, which use avoidance and escape as a natural defence.
The natural bird control technique is used around the world, including Dubai, airports and London's Trafalgar Square.
Lawry said the birds are trained to fly to a lure held by an instructor, rather than to capture birds.
"As the falcon comes rocketing towards the lure I pass it behind me in the direction I want it to travel, and so he goes up high in that direction. When he goes high the pigeons will go 'I'm out of here because there's a falcon here'. But at that point if there's a really slow pigeon the falcon might get it."
About Pigeon Patrol:
Pigeon Patrol Products & Services is the leading manufacturer and distributor of bird deterrent (control) products in Canada. Pigeon Patrol products have solved pest bird problems in industrial, commercial, and residential settings since 2000, by using safe and humane bird deterrents with only bird and animal friendly solutions. At Pigeon Patrol, we manufacture and offer a variety of bird deterrents, ranging from Ultra-flex Bird Spikes with UV protection, Bird Netting, 4-S Gel and the best Ultrasonic and audible sound devices on the market today.
Voted Best Canadian wholesaler for Bird Deterrent products four years in a row.
Contact Info: 1- 877– 4– NO-BIRD (www.pigeonpatrol.ca)