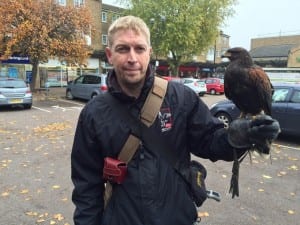 MOVE over Ospreys — there's another bird of prey over Swansea.
Specially trained hawks are being introduced to keep a watchful eye over Swansea Market, where they will be deployed above the roof area of the historic attraction to act as a deterrent to troublesome gulls.
Swansea Council says the nesting and scavenging of gulls has been a problem on the roof area of the market for a number of years, with issues including bird droppings, roof damage and blocked guttering.
And shoppers have even been targeted by greedy gulls attempting to snatch food from their hands.
The task will be carried out by national licensed supplier of bird control, Hawksdrift, based near Builth Wells.
The business trains hawks from a young age, to ensure they are socialised and not a danger to humans, and is responsible for similar work at Aberwystwyth University, as well as taking part in falconry displays, and taking the birds into schools for pupils to learn about them.
Representatives were due to visit the market on Friday to speak with traders and answer any questions they may have about the work – although the date is to be rescheduled following today's fire at the venue.
Hawksdrift director Layla Bennett said the hawks do not attack the gulls to disperse them, but do so by scaring them.
She said: "A common misconception is that the hawk deterrent works by them attacking or even eating the gulls, but that is not the case.
"It is about scaring them. They will be flying over the roof, to deter them from nesting. Just their presence in general acts as a deterrent. They do not have to attack or hurt the other birds.
"Gulls are becoming an increasing problem in urban populations. They are more confident around people, and they are exceptionally intelligent birds, who will swoop down and sometimes even attempt to take food from people. In places like Swansea the main type you have are the lesser black backed and herring gulls".
The Harris' hawks are due to visit Swansea Market around once a week over the spring and summer months, and include 11-year-old Sharpe, sisters Lizzie and Jenny, aged four, and youngster Saxon, who is almost a year old.
Layla said: "All of them are reared in a special manner in order to socialise them from a very young age. They are captively bred and reared.
"They are also trained to get them used to everyday objects and issues they may come across, such as high visibility clothing, hard hats, fire alarms going off and fork lifts trucks.
"And dispersal of gulls by scaring is a very environmental friendly."
Hawksdrift will provide regular site visit reports and statistics through an online management information system, so Swansea Council can monitor progress.
Their introduction follows completion of recent upgrade work at the market, including refurbishment of the existing barrel roof and renewal of the roof gable glazing.
The award winning venue is the largest indoor market in Wales, and opens six days a week, with more than 100 stalls selling local and traditional produce.
The refurbishment project was funded by Swansea Council and the Building Enhancement Programme, which is supported by the European Regional Development Fund through the Welsh Government.
This isn't about harming the gulls.
GULLS are not only a nuisance to shoppers visiting Swansea city centre, but they also damage the appearance its buildings — and are guilty of fouling the streets.
Robert Francis-Davies, Swansea Council's cabinet member for enterprise, development and regeneration, said: "We recently heavily invested in a major project to refurbish Swansea Market's roof for the benefit of traders and shoppers for many years to come, so it's crucial we continue to do all we can to preserve the attraction.
"Gulls have been an issue outside the building in the area of the market roof for several years now, affecting its appearance and causing damage and maintenance concerns. The company we're bringing in are experts in this area, having successfully addressed similar problems at many buildings in other parts of the UK. What they offer is an innovative, effective, natural and environmentally-friendly solution to an on-going problem.
"This isn't about harming the gulls in the area of the market roof because nobody wants that. It's about using highly-trained hawks to act as a deterrent to the gulls and keep them away from the building. Traders will be updated on the effectiveness of the scheme over coming months."
About Pigeon Patrol:
Pigeon Patrol Products & Services is the leading manufacturer and distributor of bird deterrent (control) products in Canada. Pigeon Patrol products have solved pest bird problems in industrial, commercial, and residential settings since 2000, by using safe and humane bird deterrents with only bird and animal friendly solutions. At Pigeon Patrol, we manufacture and offer a variety of bird deterrents, ranging from Ultra-flex Bird Spikes with UV protection, Bird Netting, 4-S Gel and the best Ultrasonic and audible sound devices on the market today.
Voted Best Canadian wholesaler for Bird Deterrent products four years in a row.
Contact Info: 1- 877– 4– NO-BIRD (www.pigeonpatrol.ca)