Birds are frequent sources of emerging human infectious diseases. Viral particles were enriched from the feces of 51 wild urban pigeons (Columba livia) from Hong Kong and Hungary, their nucleic acids randomly amplified and then sequenced. We identified sequences from known and novel species from the viral families Circoviridae, Parvoviridae, Picornaviridae, Reoviridae, Adenovirus, Astroviridae, and Caliciviridae (listed in decreasing number of reads), as well as plant and insect viruses likely originating from consumed food. The near full genome of a new species of a proposed parvovirus genus provisionally called Aviparvovirus contained an unusually long middle ORF showing weak similarity to an ORF of unknown function from a fowl adenovirus. Picornaviruses found in both Asia and Europe that are distantly related to the turkey megrivirus and contained a highly divergent 2A1 region were named mesiviruses. All eleven segments of a novel rotavirus subgroup related to a chicken rotavirus in group G were sequenced and phylogenetically analyzed. This study provides an initial assessment of the enteric virome in the droppings of pigeons, a feral urban species with frequent human contact.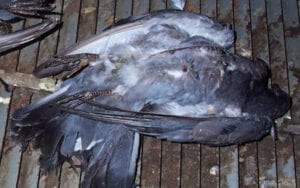 Pigeon Patrol Products & Services is the leading manufacturer and distributor of bird deterrent (control) products in Canada. Pigeon Patrol products have solved pest bird problems in industrial, commercial, and residential settings since 2000, by using safe and humane bird deterrents with only bird and animal friendly solutions. At Pigeon Patrol, we manufacture and offer a variety of bird deterrents, ranging from Ultra-flex Bird Spikes with UV protection, Bird Netting, 4-S Bird Gel and the best Ultrasonic and audible sound devices on the market today.
Voted Best Canadian wholesaler for Bird Deterrent products ten years in a row.
Contact us at 1- 877– 4– NO-BIRD, (604) 585-9279 or visit our website at www.pigeonpatrol.ca
Pigeon/Pigeon Patrol / Pigeons Roosting / Vancouver Pigeon Control /Bird Spikes / Bird Control / Bird Deterrent / Pigeon Deterrent?  Surrey Pigeon Control / Pest /Seagull deterrent / Vancouver Pigeon Blog / Birds Inside Home / Pigeons in the cities / Ice Pigeons/ What to do about pigeons/ sparrows , Damage by Sparrows, How To Keep Raccoons Away,  Why Are Raccoons Considered Pests/ De-fence / Pigeon Nesting/ Bird Droppings / Pigeon Dropping/ woodpecker control/ Professional Bird Control Company/ Keep The Birds Away/ Birds/rats/ seagull/pigeon/woodpecker/ dove/sparrow/pidgeon control/pidgeon problem/ pidgeon control/flying rats/ pigeon Problems/ bird netting/bird gel/bird spray/bird nails/ bird guard