The development of cities and urban sprawl has made room for wildlife inhabiting human environments. Among birds, feral pigeons (Columba livia domestica) are often present in large numbers in the cities. Problems related to pigeon occurrence result in economic loss and health issues for humans. There are different methods of controlling pigeon populations in urban areas. In this study, we compared three techniques that can be used for pigeon pest control. In two urban industrial sites in Hungary, we used trapping, falconry (in both Study Area 1 and 2) and mist-netting (only in Study Area 2) to remove pigeons. We compared the effectiveness and limitations of each method. Our results show that over 105 days in Study Area 1, we managed to remove 173 individual pigeons. We did not find a significant difference between the effectiveness of trapping or falconry. In Study Area 2, the overall number of pigeons removed was 1412 over a period of 150 days. There, we managed to catch significantly more birds by netting than by trapping or falconry, but the latter two did not differ statistically. We recommend a combination of techniques for pigeon control. Mist-netting can be the most effective way for direct pigeon removal, whereas trapping is an easier but less efficient method to catch pigeons. Falconry is the least efficient in pigeon catching and requires the most investments, but the bird of prey may chase the pigeons away for a short time.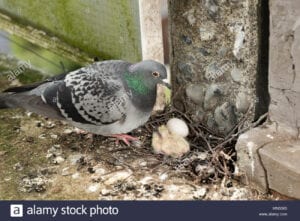 Pigeon Patrol Products & Services is the leading manufacturer and distributor of bird deterrent (control) products in Canada. Pigeon Patrol products have solved pest bird problems in industrial, commercial, and residential settings since 2000, by using safe and humane bird deterrents with only bird and animal friendly solutions. At Pigeon Patrol, we manufacture and offer a variety of bird deterrents, ranging from Ultra-flex Bird Spikes with UV protection, Bird Netting, 4-S Bird Gel and the best Ultrasonic and audible sound devices on the market today.
Voted Best Canadian wholesaler for Bird Deterrent products ten years in a row.
Contact us at 1- 877– 4– NO-BIRD, (604) 585-9279 or visit our website at www.pigeonpatrol.ca
Pigeon/Pigeon Patrol / Pigeons Roosting / Vancouver Pigeon Control /Bird Spikes / Bird Control / Bird Deterrent / Pigeon Deterrent?  Surrey Pigeon Control / Pest /Seagull deterrent / Vancouver Pigeon Blog / Birds Inside Home / Pigeons in the cities / Ice Pigeons/ What to do about pigeons/ sparrows , Damage by Sparrows, How To Keep Raccoons Away,  Why Are Raccoons Considered Pests/ De-fence / Pigeon Nesting/ Bird Droppings / Pigeon Dropping/ woodpecker control/ Professional Bird Control Company/ Keep The Birds Away/ Birds/rats/ seagull/pigeon/woodpecker/ dove/sparrow/pidgeon control/pidgeon problem/ pidgeon control/flying rats/ pigeon Problems/ bird netting/bird gel/bird spray/bird nails/ bird guard