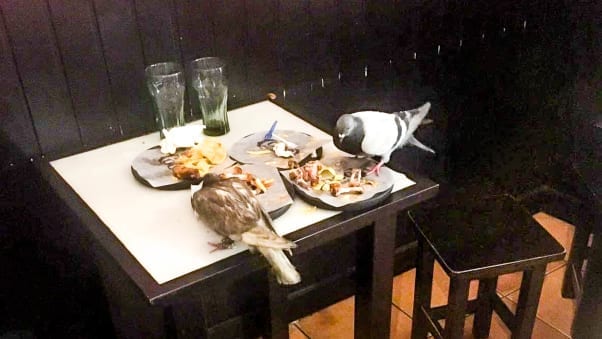 Open-Air Pigeon Nest Closes Popular Mission Taqueria
by Chris Roberts | September 13, 2011
Pigeons are more than rats with wings. Birds of the family columbidae are also reasons not to eat at Taqueria Vallarta on 24th Street — or, more precisely, why nobody has eaten at Taqueria Vallarta since Sept. 8th, and why nobody may eat there until a Department of Public Health hearing tomorrow.
It appears a pair of diners were chowing down on their favorite Mission District Mexican food selections — the street-style tacos served until after 3 a.m. are particularly bomb, we hear — when they noticed something was afoot. Or rather, a-wing: there was a pigeon nest in the restaurant's rafters, and pigeons flying in and out of the eatery via a hole in the roof, according to a complaint on file with DPH.
"There were pigeons flying in and out of the restaurant," the unnamed resident said, according to the complaint. "The peigons [sic] were leaving peigon [sic] waste visibly around the restaurant." (You can read the entire complaint here.)
That was on Sept. 6. On Sept. 8, a DPH inspector visited for a reinspection and ordered the restaurant immediately closed after finding six bags of trash in a storage closet and what was delicately described as a "cockroach infestation." (You can read the inspector's entire report here.)
This isn't the first time Vallarta has had to close due to an excess in, shall we say, live animal culture: the eatery also had to close in 2006 thanks to a roach population.
All this will soon be taken care of, according to restaurant owner Juan Rosas Lopez, reached via telephone at the eatery on Tuesday.
"We're closed to do renovations to the restuarant," said Lopez, who, God bless him, talked to us after we exhausted our Spanish with repeated "periodico, noticias, noticias," to one of his employees. "We're fixing the walls, the bars, the counters," Lopez said. "We're doing something nice."
Lopez says he'll be able to reopen in a couple of days, pending results on the hearing.
Whatever problems he's had doesn't appear to have cut into his bottom line much — another Vallarta location recently opened on 16th Street, and the taqueria's Yelp rating is a four out of five stars.
But the pigeons? That's a new one. "'Pigeon problems' abound in this city and all cities throughout the US and the world," observed DPH spokeswoman Eileen Shields.
"What doesn't abound are pigeons taking up residence inside restaurants. Very unusual occurrence, even for San Francisco."
About Pigeon Patrol:
Pigeon Patrol Products & Services is the leading manufacturer and distributor of bird deterrent (control) products in Canada. Pigeon Patrol products have solved pest bird problems in industrial, commercial, and residential settings since 2000, by using safe and humane bird deterrents with only bird and animal friendly solutions. At Pigeon Patrol, we manufacture and offer a variety of bird deterrents, ranging from Ultra-flex Bird Spikes with UV protection, Bird Netting, 4-S Gel and the best Ultrasonic and audible sound devices on the market today.
Contact us at 1- 877– 4– NO-BIRD, (604) 585-9279 or visit our website at www.pigeonpatrol.ca
Bird Gone, Pigeon Gone, Pigeon problems, pigeon spikes, 1-877-4NO-BIRD, 4-S Gel, Bird Control, Pigeon Control, bird repellent, Bird Spikes, sonic bird repellent, stainless steel bird spikes, bird spikes Vancouver, Ultra Sonic Bird Control, Bird Netting, Plastic Bird Spikes, Canada bird spike deterrents, Pigeon Pests, B Gone Pigeon, Pigeon Patrol, pest controller, pest control operator, pest control technician, Pigeon Control Products, humane pigeon spikes, pigeon deterrents, pigeon traps, Pigeon repellents, Sound & Laser Deterrents, wildlife control, raccoon, skunk, squirrel deterrent, De-Fence Spikes, Dragons Den.