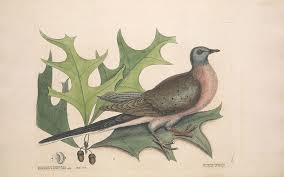 Where Are They Found?
The history of these pigeons were originally found wild in Europe, North Africa, and Western Asia, pigeons have become established in cities around the world. The species is abundant, with an estimated population of 17 to 28 million feral and wild birds in Europe alone and up to 120 million worldwide. These birds were introduced into North America in the early 1600's. Window ledges and tall buildings mimic the rocky cliffs originally inhabited by their ancient ancestors in Europe. The pigeon has a long history of association with humans, having been used for food and entertainment for over 5,000 years. Source
How Many Species Are There?
Pigeons live worldwide except in the coldest regions and the most remote islands. About 250 species are known; two-thirds of them occur in tropical Southeast Asia, Australia, and the islands of the western Pacific, but the family also has many members in Africa and South America and a few in temperate Eurasia and North America. All members of the family suck liquids, rather than sip and swallow as do other birds, and all pigeon parents feed their young "pigeon's milk," the sloughed-off lining of the crop, the production of which is stimulated by the hormone prolactin. The nestling obtains this "milk" by poking its bill down the parent's throat.
Pigeons are gentle, plump, small-billed birds with a skin saddle (cere) between the bill and forehead. All pigeons strut about with a characteristic bobbing of the head. Because of their long wings and powerful flight muscles, they are strong, swift fliers. Pigeons are monogamous; i.e., they mate for life, and the survivor accepts a new mate only slowly. The female lays two glossy white eggs in a flimsy nest that barely holds them. The female generally incubates the eggs by night, the male by day. The incubation period is 14 to 19 days, but the young are cared for in the nest for another 12 to 18 days. Source
Contact Us For Any Questions!
(604) 585-9279
About Pigeon Patrol:
Pigeon Patrol Products & Services is the leading manufacturer and distributor of bird deterrent (control) products in Canada. Pigeon Patrol products have solved pest bird problems in industrial, commercial, and residential settings since 2000, by using safe and humane bird deterrents with only bird and animal friendly solutions. At Pigeon Patrol, we manufacture and offer a variety of bird deterrents, ranging from Ultra-flex Bird Spikes with UV protection, Bird Netting, 4-S Gel and the best Ultrasonic and audible sound devices on the market today.
Contact us at 1- 877– 4– NO-BIRD, (604) 585-9279 or visit our website at www.pigeonpatrol.ca
Bird Gone, Pigeon Gone, Seagull Gone, Pigeon problems, pigeon spikes, 1-877-4NO-BIRD, 4-S Gel, Bird Control, Pigeon Control, bird repellent, Bird Spikes, sonic bird repellent, stainless steel bird spikes, bird spikes Vancouver, Ultra Sonic Bird Control, Bird Netting, Plastic Bird Spikes, Canada bird spike deterrents, Pigeon Pests, B Gone Pigeon, Pigeon Patrol, pest controller, pest control operator, pest control technician, Pigeon Control Products, humane pigeon spikes, History of pigeons, pigeon deterrents, pigeon traps, Pigeon repellents, Sound & Laser Deterrents, wildlife control, raccoon, skunk, squirrel deterrent, De-Fence Spikes, Dragons Den, Canada bird spikes, Canada pigeon, pigeon control, pigeon patrol, pigeon. Kill pigeons, crow, starling, Pigeon Habitat, Pigeon identifications, Pigeon Spikes, Ultrasonic Pest Repellers
The post History of Pigeons appeared first on Pigeon Patrol Canada – Bird Control Products & Services.
Filed Under: Pigeon Patrol's Services