How does a lone pigeon get back home? Does it choose the fastest, the easiest or the safest route?
As flying takes a lot of energy, birds generally adapt their flight speed and trajectory to reduce how much they use.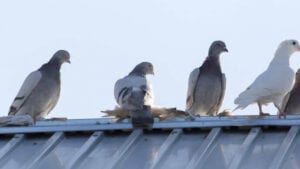 Now researchers at Swansea University have been using high-tech tags to study homing pigeons and to discover if these crucial decisions could be linked to helping them avoid attack by predators.
When the team monitored pigeons as they flew back to their loft at the Max Planck Institute of Animal Behaviour in Germany, they observed that the birds did sometimes adopt energy-efficient flight styles such as starting their climbs ahead of hills to reduce their climb angle. But they also saw pigeons using up energy by flying at high speeds.
Baptiste Garde, of the University's Swansea Lab for Animal Movement (SLAM) led the new research which has just been published by the journal Royal Society Open Science  
He said: "This might suggest that pigeons are just trying to get home as fast a possible, but by comparing the variation in their flight speed and altitude to those of an ultralight aircraft following the same path, we found that pigeon altitude and speed was, in fact, very variable.
"Flying this way is neither efficient in terms of time nor energy, but it might have an unexpected advantage. Indeed, if we look at the trajectory of a rabbit on the run, or a snipe flying away, we can see that they make unpredictable sharp turns to confuse their predators.
"That is what we call a protean behaviour. Pigeons might be using the same strategy to increase their chances of avoiding an attack.
"Protean flight has only been described in a handful of birds up until now but we think that it might be a relatively common behaviour, with birds flying in a more unpredictable way when they fly solo."
Pigeon Patrol Products & Services is the leading manufacturer and distributor of bird deterrent (control) products in Canada. Pigeon Patrol products have solved pest bird problems in industrial, commercial, and residential settings since 2000, by using safe and humane bird deterrents with only bird and animal friendly solutions. At Pigeon Patrol, we manufacture and offer a variety of bird deterrents, ranging from Ultra-flex Bird Spikes with UV protection, Bird Netting, 4-S Bird Gel and the best Ultrasonic and audible sound devices on the market today.
Voted Best Canadian wholesaler for Bird Deterrent products ten years in a row.
Contact us at 1- 877– 4– NO-BIRD, (604) 585-9279 or visit our website at www.pigeonpatrol.ca
Pigeon/Pigeon Patrol / Pigeons Roosting / Vancouver Pigeon Control /Bird Spikes / Bird Control / Bird Deterrent / Pigeon Deterrent?  Surrey Pigeon Control / Pest /Seagull deterrent / Vancouver Pigeon Blog / Birds Inside Home / Pigeons in the cities / Ice Pigeons/ What to do about pigeons/ sparrows , Damage by Sparrows, How To Keep Raccoons Away,  Why Are Raccoons Considered Pests/ De-fence / Pigeon Nesting/ Bird Droppings / Pigeon Dropping/ woodpecker control/ Professional Bird Control Company/ Keep The Birds Away/ Birds/rats/ seagull/pigeon/woodpecker/ dove/sparrow/pidgeon control/pidgeon problem/ pidgeon control/flying rats/ pigeon Problems/ bird netting/bird gel/bird spray/bird nails/ bird guard