Police in India took a pigeon into custody Monday after the bird was found carrying a warning note to the country's Prime Minister Narendra Modi.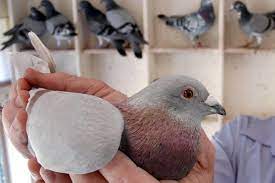 According to Agence France-Presse (AFP) news agency, Border Security Force (BSF) officers found the pigeon in the northern state of Punjab, where clashes between Indian and Pakistani troops have intensified.
"We took it into custody last evening," a police investigator told the news agency. "The BSF found it with a note in Urdu saying something like 'Modi, we're not the same people from 1971. Now each and every child is ready to fight against India'."
The note was apparently signed by the banned Pakistani militant group Lashkar-e-Taiba.
According to English language newspaper The Indian Express, this is the second time in just over a week a pigeon has been found with some sort of note apparently sent from Pakistan.
On Sept. 23, a bird was found in Hoshiarpur district with "some words written in Urdu," the newspaper reported.
"We are investigating the matter," inspector Ramesh Kumar told the Express.
Pigeon Patrol Products & Services is the leading manufacturer and distributor of bird deterrent (control) products in Canada. Pigeon Patrol products have solved pest bird problems in industrial, commercial, and residential settings since 2000, by using safe and humane bird deterrents with only bird and animal friendly solutions. At Pigeon Patrol, we manufacture and offer a variety of bird deterrents, ranging from Ultra-flex Bird Spikes with UV protection, Bird Netting, 4-S Bird Gel and the best Ultrasonic and audible sound devices on the market today.
Voted Best Canadian wholesaler for Bird Deterrent products ten years in a row.
Contact us at 1- 877– 4– NO-BIRD, (604) 585-9279 or visit our website at www.pigeonpatrol.ca
Pigeon/Pigeon Patrol / Pigeons Roosting / Vancouver Pigeon Control /Bird Spikes / Bird Control / Bird Deterrent / Pigeon Deterrent?  Surrey Pigeon Control / Pest /Seagull deterrent / Vancouver Pigeon Blog / Birds Inside Home / Pigeons in the cities / Ice Pigeons/ What to do about pigeons/ sparrows , Damage by Sparrows, How To Keep Raccoons Away,  Why Are Raccoons Considered Pests/ De-fence / Pigeon Nesting/ Bird Droppings / Pigeon Dropping/ woodpecker control/ Professional Bird Control Company/ Keep The Birds Away/ Birds/rats/ seagull/pigeon/woodpecker/ dove/sparrow/pidgeon control/pidgeon problem/ pidgeon control/flying rats/ pigeon Problems/ bird netting/bird gel/bird spray/bird nails/ bird guard