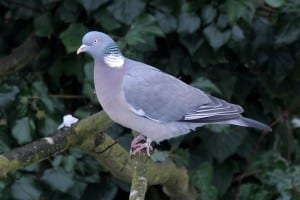 THE risk of being hit by pigeon droppings as you walk under a city centre bridge is set to vanish as plans get under way to bird-proof the entire structure.
Business owners in Fisherton Street and residents living close to the railway bridge called for action in November, saying the birds had become a health hazard and people walking under the bridge need umbrellas to protect themselves.
Salisbury city councillor Matt Dean said it was the "number one issue" that residents complain to him about and has now led the way in obtaining funding from the city council to solve the problem.
He said: "It's been an ongoing problem for 15 years or so, and now, with the opening of the University Technical College at the former police station, even more people are walking under the bridge from the rail station.
"The bulk of the money for cleaning and bird-proofing the bridge is going to be spent by the city council and we're going to ask Network Rail for a financial contribution.
"We hope Wiltshire Council is going to assist by paying for the Traffic Regulation Order for the one or two-night road closure – but we have yet to get their agreement. We've gone out for tender for the work and hope it will be complete in June."
The bridge clean and bird-proofing measures are expected to cost between £3,500 and £6,000.
Cllr Dean said: "There are a number of possible different treatments which include spikes or a special paint which is invisible to the human eye but makes buildings or statues seem like they're on fire, if you're a bird. The latter was successfully used about a year ago on the Poultry Cross where it was terrible but it's now completely sorted.
"This is part of a wider programme to protect our buildings from damage by pigeons. In our historical, medieval city, we have to look after our shops and visitors.
"If you sit down and eat in the market square, you get pecked by birds. We need to work with the Business Improvement District to get rid of birds from the city centre."
Last year, nesting peregrine falcons in the cathedral spire helped make a difference to the number of pigeons in the city but it also led to some very public executions and the council is reluctant to hire birds of prey to keep birds away.
Paul Dauwalder, who runs three businesses in the Fisherton Street, said it was fantastic news, adding: "It's one of the weak spots in the street. People have had to walk under that awful bridge for too long and run the gauntlet from these feral pigeons."
About Pigeon Patrol:
Pigeon Patrol Products & Services is the leading manufacturer and distributor of bird deterrent (control) products in Canada. Pigeon Patrol products have solved pest bird problems in industrial, commercial, and residential settings since 2000, by using safe and humane bird deterrents with only bird and animal friendly solutions. At Pigeon Patrol, we manufacture and offer a variety of bird deterrents, ranging from Ultra-flex Bird Spikes with UV protection, Bird Netting, 4-S Gel and the best Ultrasonic and audible sound devices on the market today.
Voted Best Canadian wholesaler for Bird Deterrent products four years in a row.
Contact Info: 1- 877– 4– NO-BIRD (www.pigeonpatrol.ca)