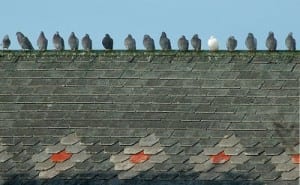 A concerned gran is crying fowl, claiming flying visitors are making a South Tyneside rail bridge a 'health hazard'.
Joan Marsh says roosting pigeons are still a problem at the Hill Street bridge, in Jarrow, every day on her route to work despite a major revamp by transport bosses.
Pigeon problem at Hill Street Metro bridge. Joan Marsh
Pigeon problem at Hill Street Metro bridge. Joan Marsh
The 53-year-old, from Pine Street, in Jarrow, says flocks of pigeons congregated under the bridge – with their droppings on the pavement and railings an ongoing issue.
Metro owner Nexus, which manages the bridge along with Network rail, says it has installed netting above all the walkways, but Mrs Marsh says the work didn't go far enough.
Network Rail says it was unaware of Mrs Marsh's concerns but is happy to meet with her to discuss the issue.
Mrs Marsh, a mum-of-four and gran-of-one, said; "There are still droppings on the walkway and on the railings. The netting that is attached to the underside of bridges to stop birds from nesting hasn't been fitted properly.
Pigeon problem at Hill Street Metro bridge. Joan Marsh
Pigeon problem at Hill Street Metro bridge. Joan Marsh
"It has only been fitted on the outside edges of the underside of the bridge. The middle has been missed.
"I counted 38 pigeons sitting on the ledges under the bridge. It will soon be back to a smelly, pigeon roosting health hazard if someone doesn't step in and finish the work properly.
Nexus and Network rail have completed a major overhaul of the bridge, with new crash barriers installed to prevent the bridges from sustaining structural damage if any are hit by a car or a lorry.
Nexus says it has installed netting on 20% of the bridge that it manages and also put the netting above all the parts of the bridge that are above the walkways as a goodwill gesture.
A Network Rail spokesman said; "We haven't been made aware of any concerns over netting on the bridge, but if Mrs Marsh contacts us we will send someone out and see what work is needed.
A Nexus spokesman added: "As part of our modernisation programme on the Hill Street bridge, we have installed pigeon netting above all of the walkways. We have also installed pigeon spikes to stop them from landing and have cleaned up both of the footpaths.
"The netting and the spikes have been put in place to prevent pigeons from roosting on the structure.
"All the work was carried out following feedback from local councillors and residents.
"We share the ownership of the Hill Street bridge with Network Rail. Nexus looks after about a fifth of the bridge structure, but the netting above the footpaths has been erected all the way along the bridge as part of the upgrades.
"We would encourage Mrs Marsh to get in direct contact with us so we can discuss this issue with her in more detail."
About Pigeon Patrol:
Pigeon Patrol Products & Services is the leading manufacturer and distributor of bird deterrent (control) products in Canada. Pigeon Patrol products have solved pest bird problems in industrial, commercial, and residential settings since 2000, by using safe and humane bird deterrents with only bird and animal friendly solutions. At Pigeon Patrol, we manufacture and offer a variety of bird deterrents, ranging from Ultra-flex Bird Spikes with UV protection, Bird Netting, 4-S Gel and the best Ultrasonic and audible sound devices on the market today.
Voted Best Canadian wholesaler for Bird Deterrent products four years in a row.
Contact Info: 1- 877– 4– NO-BIRD (www.pigeonpatrol.ca)