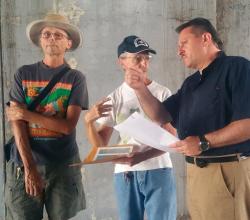 Much goes into maintaining the grounds and operations of a major airport that typical travelers don't see. One of those is managing bird populations.
On Friday, a Tampa resident tweeted a photo of pigeons confined in a cage on the roof of Tampa International Airport's long-term parking garage. Susan Gail Taylor, a social media manager and copywriter for RME360, a direct-marketing company in Tampa, tweeted, "Are there really pigeons being trapped there and held outside in this oppressive heat?"
For the past three weeks, a pest control company contracted by the Tampa airport has been trapping pigeons on the property and euthanizing them to help reduce the bird population, said Emily Nipps, an airport spokeswoman. Pigeons and other birds present unique safety issues at airports, as they can interfere with aircraft that are taking off and landing. It's not uncommon to read news reports about flight delays and cancellations because of collisions with birds.
"The problem with pigeons is we can't trap them and release them somewhere else because they'll always come back to where they came from," Nipps said.
After Taylor's tweet, the airport was answering questions from travelers about the birds on social media and through emails Friday. The traps also were removed from the parking garage.
The airport has been trapping pigeons periodically for years when the populations get too great. Nipps said the pigeons are attracted to the high buildings at the airport.
"They present significant health and safety concerns," she said.
The pigeons are removed from the traps daily and euthanized. They have access to water while they're confined, she said.
The airport also uses other measures to control the bird population such as shooting loud cracker shells to scare them away from runways and cutting the grass at a certain angle to not attract too many bugs.
"The population gets worse every couple of years," Nipps said.
Taylor, who tweeted the photo, said she didn't take the picture but received it from a friend. Officials with the Tampa airport responded to Taylor's tweet on Twitter. She was encouraged to call Nipps, who told her she is a bird owner herself.
About Pigeon Patrol:
Pigeon Patrol Products & Services is the leading manufacturer and distributor of bird deterrent (control) products in Canada. Pigeon Patrol products have solved pest bird problems in industrial, commercial, and residential settings since 2000, by using safe and humane bird deterrents with only bird and animal friendly solutions. At Pigeon Patrol, we manufacture and offer a variety of bird deterrents, ranging from Ultra-flex Bird Spikes with UV protection, Bird Netting, 4-S Gel and the best Ultrasonic and audible sound devices on the market today.
Voted Best Canadian wholesaler for Bird Deterrent products four years in a row.
Contact Info: 1- 877– 4– NO-BIRD (www.pigeonpatrol.ca)