On 8 January 2021, a pigeon was found dead, having been trapped in green netting installed by the Hong Kong Government, in order to deter birds from gathering under the cover of the Star Ferry Bus Terminus.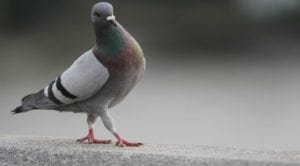 The green nets, along with bird spikes were installed several years ago to act as a deterrent, but the Hong Kong Pigeon and Dove Rescue (HKPDR), has urged authorities to remove the nets as pigeons have been injured or strangled to death by them. HKPDR said it had seen pigeons previously trapped by bird spikes and had contacted the relevant departments for response, but to no avail.
HKPDR said wildlife management should adopt a humane, animal-based, adding that it had earlier proposed more humane measures including setting up pigeon boxes. But all suggestions had been turned down by authorities. A social media campaign had also recently been launched to urge the Government to remove the green netting.
HKPRD also highlighted that some birds can enter via the holes in the net, but their wings and feet could get hooked onto the netting, causing them significant injuries, and rendering them unable to escape.
On Facebook, the HKPDR wrote:-
"The net is half installed which is causing unnatural and unnecessary death of pigeons. We urge the pier to stop all inhumane treatment and look at effective and humane ways to achieve their goal."
A photo posted to Facebook by the group shows that the green net did not completely seal off the cover of the bus terminus. Several pigeons were able to stand above the green net and under the cover. HKPDR added that the government added bird spikes underneath the bus terminal cover, noting that it is not only ineffective but pigeons have to bear "unnecessary life danger."
Pigeon Patrol Products & Services is the leading manufacturer and distributor or bird deterrent (control) products in Canada. Pigeon Patrol products have solved pest bird problems in industrial, commercial, and residential settings since 2000, by using safe and humane bird 
deterrents with only bird and animal friendly solutions. At Pigeon Patrol, we manufacture and offer a variety of bird deterrents, ranging from Ultra-flex Bird Spikes with UV protection, Bird Netting, 4-S Bird Gel and the best Ultrasonic and audible sound devices on the market today.
Voted Best Canadian wholesaler for Bird Deterrent products ten years in a row. 

Contact us at 1 877-4-NO-BIRD,(604) 585-9279 or visit our website at www.pigeonpatrol.ca

Pigeon/Pigeon Patrol / Pigeons Roosing / Vancouver Pigeon Control / Bird Spikes / Bird Control / Bird Deterrent / PIgeon Deterrent / Surrey Pigeon Control / Pest / Seagull deterrent / Vancouver Pigeon Blog / Birds Inside Home / Pigeons in the cities / Ice Pigeons / What to do about pigeons / sparrows, Damage by Sparrows, How to Keep Raccoons Away, Why Are Raccoons Considered Pests / De-fence / Pigeon Nesting / Bird Droppings / Pigeon Dropping / woodpecker control / Professional Bird Control Company / Keep The Birds Away / Birds/rats/seagull/pigeon/woodpecker/dove/sparrow/pidgeon control/pidgeon problem/pidgeon control/flying rats/pigeon problems/ bird netting/bird gel/bird spray/bird nails/bird guard