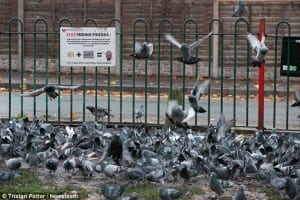 PIGEONS droppings (pigeon poo) are "not" causing a nuisance to members of the public, according to Barrhead's local authority.
East Renfrewshire Council (ERC) has responded to calls from members of the public and a local councillor for more anti-pigeon measures at Barrhead Train Station.
Commuters claimed that the ground around the station was slick with pigeon poo – and that they often ran under the bridge for fear of "raining poo".
The council claims that it had plans to instal pigeon proof netting at the bridge last year – but essential works to the bridge paid heed to the plans.
However ERC now says that while it does not deem the birds to currently be a nuisance, it will be taking precautionary measures to prevent the bridge's pigeon populations from booming.
A spokeswoman for ERC said: "East Renfrewshire Council had plans in place to install netting to the Barrhead rail bridge in April last year however due to essential repairs having to be carried out by Network rail, the installation had to be delayed.
"Our Environmental Health team have been monitoring the rail bridge since the essential works have taken place and do not deem there to be any level of nuisance from the pigeons currently or health risk to the public.
"This however could deteriorate should more birds appear, so as a precautionary measure proofing work will be carried out.
"A suitable contractor will carry out the installation of netting in mid-October 2016."
Network Rail recently completed a £1 million overhaul of the 1900s structure on Paisley Road, forcing months of road delays.
During the renovation the bridge's resident pigeon population was shifted.
Independent councillor Danny Devlin previously said: "They are leaving an awful mess and it's just disgusting.
"I have received plenty of complaints from my constituents about the constant barrage that they have to endure when they risk walking under that bridge at any time of the day.
A quick reconnaissance of the street reveals slick patches of pigeon poo on the pavement below, and as well as a hygiene hazard it is claimed that the dung also represent a fall hazard.
About Pigeon Patrol:
Pigeon Patrol Products & Services is the leading manufacturer and distributor of bird deterrent (control) products in Canada. Pigeon Patrol products have solved pest bird problems in industrial, commercial, and residential settings since 2000, by using safe and humane bird deterrents with only bird and animal friendly solutions. At Pigeon Patrol, we manufacture and offer a variety of bird deterrents, ranging from Ultra-flex Bird Spikes with UV protection, Bird Netting, 4-S Gel and the best Ultrasonic and audible sound devices on the market today.
Voted Best Canadian wholesaler for Bird Deterrent products four years in a row.
Contact Info: 1- 877– 4– NO-BIRD (www.pigeonpatrol.ca)