Pigeon pirates are illegally catching the birds on the streets of Manhattan to sell them out of state gun clubs to be killed for sport, animal rights activists claim after two incidents were reported this month.
On the morning of January 16, Hell's Kitchen residents Susan Tang and her husband, Nicholas, witnessed two men in a Dodge Caravan bearing New York plates as they tossed seeds along 10th Avenue between 58th and 59th streets, according to the New York Post.
The poachers ended up capturing about 50 pigeons with nets before throwing them into the van and fleeing the scene.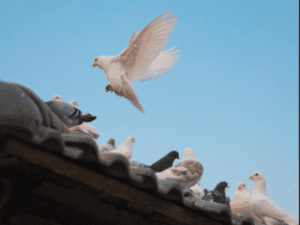 'We followed the van as much as we could to try to focus on the license plate, which was obscured by a plastic cover of some sort,' Susan Tang told the Post.
'The driver was aware he was being followed and was blowing red lights and almost struck a group of pedestrians.'
While it has been illegal to capture and sell pigeons for years in New York City, punishment for the crime was not streamlined until 2019, when a new bill made it a misdemeanor punishable by up to a year in jail and a $1000 fine.
A permit is required in order to trap pigeons citywide.
The couple, who took a photo of the van prior to losing sight of it, filed a complaint with both 311 and the state Department of Environmental Conservation, as well as notified the NYPD.
'It was over and done with from start to finish in 20 seconds,' Tang recalled.
'It was deeply disturbing. I'm a born and raised New Yorker. I love everything about this city. The pigeons are as New York City as you can possibly get.'
According to Tang, investigators with the Department of Environmental Conservation already 'know the suspect's name and address and located the van complete with tons of feathers and pigeon poop inside.'
'I have told him that my husband and I will testify if the case progresses,' she added.
Pigeon Patrol Products & Services is the leading manufacturer and distributor or bird deterrent (control) products in Canada. Pigeon Patrol products have solved pest bird problems in industrial, commercial, and residential settings since 2000, by using safe and humane bird 
deterrents with only bird and animal friendly solutions. At Pigeon Patrol, we manufacture and offer a variety of bird deterrents, ranging from Ultra-flex Bird Spikes with UV protection, Bird Netting, 4-S Bird Gel and the best Ultrasonic and audible sound devices on the market today.
Voted Best Canadian wholesaler for Bird Deterrent products ten years in a row. 

Contact us at 1 877-4-NO-BIRD,(604) 585-9279 or visit our website at www.pigeonpatrol.ca

Pigeon/Pigeon Patrol / Pigeons Roosing / Vancouver Pigeon Control / Bird Spikes / Bird Control / Bird Deterrent / PIgeon Deterrent / Surrey Pigeon Control / Pest / Seagull deterrent / Vancouver Pigeon Blog / Birds Inside Home / Pigeons in the cities / Ice Pigeons / What to do about pigeons / sparrows, Damage by Sparrows, How to Keep Raccoons Away, Why Are Raccoons Considered Pests / De-fence / Pigeon Nesting / Bird Droppings / Pigeon Dropping / woodpecker control / Professional Bird Control Company / Keep The Birds Away / Birds/rats/seagull/pigeon/woodpecker/dove/sparrow/pidgeon control/pidgeon problem/pidgeon control/flying rats/pigeon problems/ bird netting/bird gel/bird spray/bird nails/bird guard