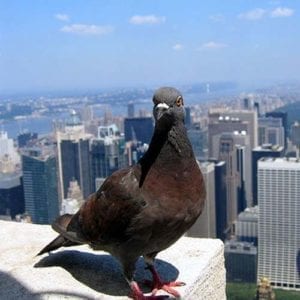 On Wednesday, during the peak hours in the morning, a local train took a halt of five minutes not because of signal failure but to save a pigeon.  Around 10:00 am, a passenger informed the deputy station master of Goregaon railway station about a pigeon hanging from a kite thread (manjha) on the Overhead Equipment mast at the North end of the station. He immediately informed the Fire Brigade and OHE staff, and acting upon the same, the authorities then switched off the power supply to the OHE wires for few minutes. Chief PRO Ravinder Bhakar said that power was shut down to the OHE between 10:28 am and 10:33 am. In the meantime, the fire Brigade reached the spot and rescued the bird.  Goregaon's Samkit Group helped WR authorities in rescuing the pigeon. The group runs a service to rescue birds and runs a centre as well where birds are nurtured to good health and then set free in Aarey Colony.
About Pigeon Patrol:
Pigeon Patrol Products & Services is the leading manufacturer and distributor of bird deterrent (control) products in Canada. Pigeon Patrol products have solved pest bird problems in industrial, commercial, and residential settings since 2000, by using safe and humane bird deterrents with only bird and animal friendly solutions. At Pigeon Patrol, we manufacture and offer a variety of bird deterrents, ranging from Ultra-flex Bird Spikes with UV protection, Bird Netting, 4-S Gel and the best Ultrasonic and audible sound devices on the market today.
Voted Best Canadian wholesaler for Bird Deterrent products four years in a row.
Contact Info: 1- 877– 4– NO-BIRD (www.pigeonpatrol.ca)