Through genomic sequencing, researchers at the University of Utah have discovered a single gene responsible for pigeon wing patterns and human blindness.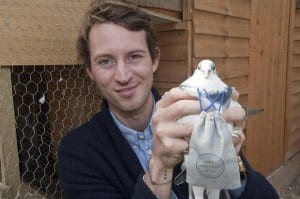 Genetic differences cause an infinite number of differences between species and within species, for example, the variation in human hair color.
Another example is that all of the pigeons that you see have one of only four different feather patterns. These feather patterns are due to genetic differences.
"Pigeon breeders and early pigeon biologists and geneticists found that these four different patterns seemed to be determined by a single genetic locus or a single spot on the genome," said Anna Vickrey, a Ph.D. candidate at the University of Utah and the lead investigator of this new research.
Vickery and her collaborators found that the one gene causes the four different feather patterns in pigeons.
"What we were excited to find is that there's two kinds of variation…  that was really exciting for us to find these two different mechanisms acting on a single gene that is making this suite of wing patterns," Vickrey said.
In investigating the genetics behind pigeon feather patterns, Vickery and her collaborators made an unexpected discovery about blindness in humans.
"The gene that we ended up finding associated with the wing patterns is pretty well studied in humans in the context of a hereditary disease that causes blindness," Vickrey.
Future research will explore this pigeon-human genetic connection.
"So in humans… what happens is their vasculature in their eyes doesn't develop correctly and so we're working with some collaborators to look at vasculature in pigeons' eyes to see if it's developing normally or if it might be similarly affected," said Vickrey.
Pigeon Patrol Products & Services is the leading manufacturer and distributor or bird deterrent (control) products in Canada. Pigeon Patrol products have solved pest bird problems in industrial, commercial, and residential settings since 2000, by using safe and humane bird 
deterrents with only bird and animal friendly solutions. At Pigeon Patrol, we manufacture and offer a variety of bird deterrents, ranging from Ultra-flex Bird Spikes with UV protection, Bird Netting, 4-S Bird Gel and the best Ultrasonic and audible sound devices on the market today.
Voted Best Canadian wholesaler for Bird Deterrent products ten years in a row. 

Contact us at 1 877-4-NO-BIRD,(604) 585-9279 or visit our website at www.pigeonpatrol.ca

Pigeon/Pigeon Patrol / Pigeons Roosing / Vancouver Pigeon Control / Bird Spikes / Bird Control / Bird Deterrent / PIgeon Deterrent / Surrey Pigeon Control / Pest / Seagull deterrent / Vancouver Pigeon Blog / Birds Inside Home / Pigeons in the cities / Ice Pigeons / What to do about pigeons / sparrows, Damage by Sparrows, How to Keep Raccoons Away, Why Are Raccoons Considered Pests / De-fence / Pigeon Nesting / Bird Droppings / Pigeon Dropping / woodpecker control / Professional Bird Control Company / Keep The Birds Away / Birds/rats/seagull/pigeon/woodpecker/dove/sparrow/pidgeon control/pidgeon problem/pidgeon control/flying rats/pigeon problems/ bird netting/bird gel/bird spray/bird nails/bird guard