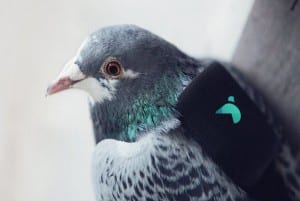 A retired worker man has been scrupulously looking after a pigeon that was born blind in the Black Sea province of Amasya.
Halil Kuru, who lives in Amasya's Taşova district, carries the blind pigeon named "Pamuk" (Cotton) everywhere he goes. He expressed his affection for pigeons and said that he loved keeping pigeons from a young age.
Kuru keeps the pigeon in a cage he built in his garden and looks after 10 other pigeons too. The man feeds the bird himself, as it is unable to eat by itself.
"I like keeping and taking care of it, it's not hard to do this. Everyone can keep a healthy bird, but it's extra important to take care of a disabled bird. I show motherly affection and support it to survive, however I struggle to keep it alive. If I hadn't showed it enough attention, it would have been dead by now. I cannot go to town because of Pamuk, but if I have to, I take it with me wherever I go, there is no one at home who could look after it, my wife is working, and my daughter goes to school," he said.
He said the biggest problem they face were cats that prey on pigeons. "I have other pigeons too, but I love Pamuk the most. I feed it and put its cage with the other pigeons when I'm out, and the first thing I do is feed him when I come back home."
Kuru said Pamuk was now a member of their family.
About Pigeon Patrol:
Pigeon Patrol Products & Services is the leading manufacturer and distributor of bird deterrent (control) products in Canada. Pigeon Patrol products have solved pest bird problems in industrial, commercial, and residential settings since 2000, by using safe and humane bird deterrents with only bird and animal friendly solutions. At Pigeon Patrol, we manufacture and offer a variety of bird deterrents, ranging from Ultra-flex Bird Spikes with UV protection, Bird Netting, 4-S Gel and the best Ultrasonic and audible sound devices on the market today.
Voted Best Canadian wholesaler for Bird Deterrent products four years in a row.
Contact Info: 1- 877– 4– NO-BIRD (www.pigeonpatrol.ca)