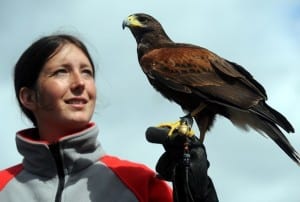 LINDENHURST, N.Y. (CBSNewYork) — An effort to protect pedestrians from pigeon droppings is creating quite a mess on Long Island.
As CBS2's Jennifer McLogan reported, the Long Island Rail Road put up fish netting below overhead rails, but birds became trapped in the netting and died.
Residents in Lindenhurst complain of the appalling sight as live pigeons are entangled in the tough new netting, even laying eggs on it, McLogan reported.
"That's messed up. They should at least let them fly away first," said Brandon Diaz.
Below the LIRR tracks, under the superstructure, several of the birds have already succumbed to the lack of food and inability to free themselves. Smelly carcasses have been spotted on a ledge and in a cage, McLogan reported.
"It is a sin. It shouldn't be happening. It's cruelty," said James Abendolla.
Small business owner T.C. Kross contacted the MTA, enraged over what she called animal abuse.
The agency explained it is doing its best to curb droppings and keep pigeons away from passengers, McLogan reported.
Kross said the pigeons, once heralded as military messengers during World War I and II, don't deserve to suffer.
"Netting over a live animal so they die of dehydration and starvation, that's not OK," said Kross.
Locals contacted pigeon experts seeking advice and alternatives were suggested, including spikes and egg sterilization, McLogan reported.
"I'm shocked too because basically we called the MTA in regards to the problem we have with the pigeons," said Lindenhurst Mayor Thomas Brennan. "They put up these nets, which were horrendous, and now they want us to clean it up."
The MTA is now accepting responsibility — and getting an earful from residents worried about their health from inhaling dried bird droppings.
"It's airborne, so you don't know if you're gonna get sick or not. We have animals up there that are dying and eating each other and eating their eggs, and it's just not right," said Lauraine Ippolo.
The MTA said the pigeons will be released from the netting. A clean up is now underway and a new plan to keep the pigeons at bay is in the works, McLogan reported.
About Pigeon Patrol:
Pigeon Patrol Products & Services is the leading manufacturer and distributor of bird deterrent (control) products in Canada. Pigeon Patrol products have solved pest bird problems in industrial, commercial, and residential settings since 2000, by using safe and humane bird deterrents with only bird and animal friendly solutions. At Pigeon Patrol, we manufacture and offer a variety of bird deterrents, ranging from Ultra-flex Bird Spikes with UV protection, Bird Netting, 4-S Gel and the best Ultrasonic and audible sound devices on the market today.
Voted Best Canadian wholesaler for Bird Deterrent products four years in a row.
Contact Info: 1- 877– 4– NO-BIRD (www.pigeonpatrol.ca)