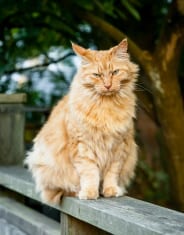 The Carthage Humane Society is currently experiencing an "MFO" at its Dog Kennel Road location south of town.
MFO, you ask?
Yep — maximum feline overload.
Jasper County has always had a feral cat problem — just ask any of our local animal control officers about it. Though they do what they can to save these little guys, it's like plugging a hole in the Hoover Dam with a wad of chewing gum.
Thomas Jay and Mari Sipeer, both with the CHS, are doing everything they can to stay above the fray.
"At the moment, we've got about 90 cats in the system," said Jay. The cats and kittens are scattered between the shelter, a number of area foster homes and the fine folks at the Joplin PetSmart. "We are definitely full here."
A large majority of the cats inside the shelter are strays, many of them transported to the shelter either by the city's animal control officer or warm-hearted residents.
"We've got a very large feral cat population," added Sipeer, who's affectionately known throughout the CHS building as the 'Cat Lady.' "They run loose, they breed, they have kittens, people bring them in and we fill up fast."
In fact: "After four years, I can still remember cats who were here when I came (to CHS), but right now, I'm just doing good to remember all their names."
Yep, it's a busy time.
Luckily, the kittens go pretty quickly. After all, the public does love a sweet-faced kitten. In fact, Jay said one of the stray kittens found inside the CHS lobby has already been adopted out to a special person — the very same Carthage animal control officer who brought him to the shelter in the first place.
"He wanted that kitten," Sipeer said with a smile.
"It does happen once in a while," added Jay, "that the officer sees an animal that he wants to adopt."
Sipeer said something similar happened last year when the driver of a rescue wagon began doting on a rescued kitten and decided he just had to have the little fur ball.
"There's just a little spark that happens between them," she said.
Most of the cats currently found inside the shelter are strays, Sipeer said, including the two cats I'll be highlighting in this week's column. To better illustrate the stray cat problem, the first cat (Caviar) came to the shelter on Sept. 22. The second cat (Cheesecake) came to the shelter on Sept. 23. Both were picked up at opposite ends of town.
Cheesecake is a 1-year-old female. Caviar is a bit younger, sitting at 8 months. Obviously, Sipeer must have had food on her mind when she got around to naming these two young girls.
"I was going down the food list in our name book," Sipeer said, chuckling. "Somewhere around here is a cat named Chun King. Earlier, I did the liquor names. Over here," she said, pointing to a sleeping male cat, "is Bahama" — named, I assume, after the Bahama rum. "In most cases, I name the cats."
Cheesecake is a large, long-haired female with a bit of Maine Coon in her, illustrated by the tufts of hair found sticking from her ears. She also has striking green eyes.
"She's such a sweet girl," Sipeer said of Cheesecake. "She's very cuddly, and she loves to purr and snuggle. She just has a very loving personality."
Caviar is a bit less outgoing, Sipeer said, though just as affectionate as any other CHS cat. "She's never given me any problems," she said of Caviar, as the short-haired cat with black and white markings on her face and body cuddled against Sipeer's shoulder.
"All my cats here are very good."
To open your home to Caviar, Cheesecake or any other stray cat or kitten found at this no-kill shelter, visit the Carthage Humane Society at 13860 Dog Kennel Lane, call the shelter at 417-358-6402 or check out the shelter's Facebook page.
About Pigeon Patrol:
Pigeon Patrol Products & Services is the leading manufacturer and distributor of bird deterrent (control) products in Canada. Pigeon Patrol products have solved pest bird problems in industrial, commercial, and residential settings since 2000, by using safe and humane bird deterrents with only bird and animal friendly solutions. At Pigeon Patrol, we manufacture and offer a variety of bird deterrents, ranging from Ultra-flex Bird Spikes with UV protection, Bird Netting, 4-S Gel and the best Ultrasonic and audible sound devices on the market today.
Voted Best Canadian wholesaler for Bird Deterrent products four years in a row.
Contact Info: 1- 877– 4– NO-BIRD (www.pigeonpatrol.ca)