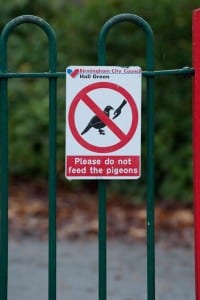 FEEDING the birds costs "tuppence a bag" in the classic film Mary Poppins, but one woman has been fined £640 for putting out food for the pigeons.
Katherine Spiller was handed a community protection notice by Oxford City Council in February last year after neighbours complained about the large numbers of pigeons congregating around her home.
But the "habitual bird feeder" failed to abide by the notice and continued to put seed out in her garden in Temple Street, east Oxford, a court heard.
Magistrates were shown pictures of dozens of pigeons perched on the roof and window ledges of the terraced house, and even sitting on neighbouring buildings.
Jeremy Franklin, representing Oxford City Council, said 66-year-old Spiller flouted the notice eight times between August and October last year.
He told Oxford Magistrates' Court on Monday how neighbours reported Spiller to the council for continuing to put out bird seed.
Mr Franklin added: "The defendant is an habitual feeder of birds, mostly pigeons, which congregate around her house in large numbers, causing a certain amount of distress and antagonism to the neighbours.
"The warning notice required the defendant to cease dropping bird seed or foodstuffs that would encourage birds, vermin or other animals in her garden or anywhere and to keep her garden free from weeds and plants providing shelter to vermin and other animals.
"Despite the imposition of the notice, the defendant was found to have breached it by continuing to feed the pigeons."
Mr Franklin said the city council might have to take further action to stop Spiller from feeding the pigeons unless she could change her habits.
He added: "Those charged with dealing with this problem are at their wits end."
The court heard Spiller had sent a letter to the court, admitting she had failed to comply with a community protection notice.
But the court clerk said the letter was "very, very rambling" and mainly consisted of "poems that have been written by Ms Spiller".
The panel of magistrates handed Spiller – who did not attend the hearing – a fine of £640 for breaching the order.
About Pigeon Patrol:
Pigeon Patrol Products & Services is the leading manufacturer and distributor of bird deterrent (control) products in Canada. Pigeon Patrol products have solved pest bird problems in industrial, commercial, and residential settings since 2000, by using safe and humane bird deterrents with only bird and animal friendly solutions. At Pigeon Patrol, we manufacture and offer a variety of bird deterrents, ranging from Ultra-flex Bird Spikes with UV protection, Bird Netting, 4-S Gel and the best Ultrasonic and audible sound devices on the market today.
Voted Best Canadian wholesaler for Bird Deterrent products four years in a row.
Contact Info: 1- 877– 4– NO-BIRD (www.pigeonpatrol.ca)