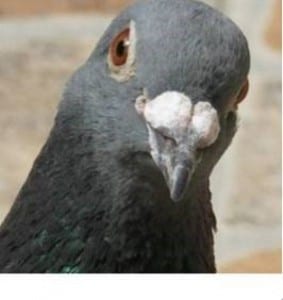 A chronically ill man may have to stop feeding his beloved pigeons, after a dispute with the manager of the supermarket next to his Bexleyheath flat.
Steven Picard feeds stray birds on his roof – which overlooks the Sainsbury's Local car park in Windermere Road – two to three times a day.
The 63-year-old supermarket "regular" has been told to stop encouraging the feathered creatures, and may now have to choose between them and his local store.
Following a dispute with store's manager, Mr Picard was "peed off" and says the situation forced him to shop online for over a week.
He suffers from multiple sclerosis (MS), which means he struggles to travel further afield to shop.
He told News Shopper: "I think it's ridiculous.
"It's not illegal to feed pigeons.
"The supermarket's only 50 yards away from me.
"It's very inconvenient because of my MS to go any further."
Mr Picard said the Sainsbury's manager claimed birds were dive bombing customers and making a mess on cars, but Mr Picard refused to stop feeding them.
He added: "I do enjoy feeding them, because my lifestyle these days is quite limited.
"They congregate on my lower roof and then they go away.
"They know me well.
"It's not in their area that I am feeding birds.
Feeding pigeons can attract large groups (stock image)
"I have been a good customer, every day for the last four years."
Mr Picard was also upset and embarrassed that the manager "shouted at" him in front of other shoppers.
He said: "It was completely out of order.
"I cannot walk very easily because of my MS.
"I have to go online now for shopping.
"It's a lot more inconvenient.
"I just want the situation to be resolved."
About Pigeon Patrol:
Pigeon Patrol Products & Services is the leading manufacturer and distributor of bird deterrent (control) products in Canada. Pigeon Patrol products have solved pest bird problems in industrial, commercial, and residential settings since 2000, by using safe and humane bird deterrents with only bird and animal friendly solutions. At Pigeon Patrol, we manufacture and offer a variety of bird deterrents, ranging from Ultra-flex Bird Spikes with UV protection, Bird Netting, 4-S Gel and the best Ultrasonic and audible sound devices on the market today.
Voted Best Canadian wholesaler for Bird Deterrent products four years in a row.
Contact Info: 1- 877– 4– NO-BIRD (www.pigeonpatrol.ca)