If you're heading to catch a bus at the Osborne station rapid transit stop, you might want to watch where you step.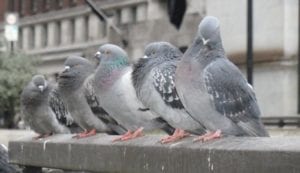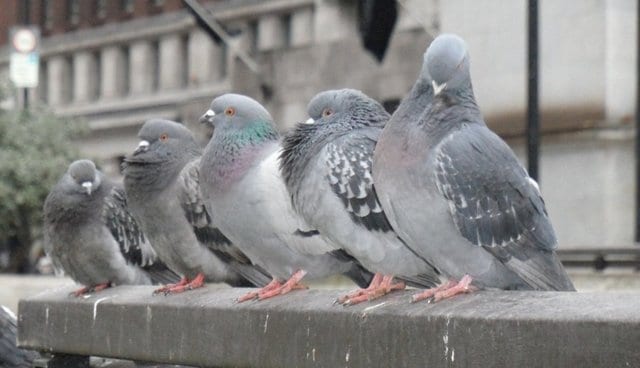 Everywhere you look, every surface is covered in pigeon poop.
"It's terrible," said one bus rider. The man also told Global News, it's been an ongoing issue he's noticed for months. He said in September, the issue was worse.
Transit riders contacted Global News about the state of the station and health concerns.
"They need some time to clean it up. You can see it all over windows. Someone needs to take a mop to this place," the rider said.
Pigeon poop can be hazardous to humans, and the build-up of pigeon feces on buildings and other structures is not only visually unappealing and but pigeon droppings are acidic and erode metal and stonework, according to Health Canada.
Pigeons have been associated with a variety of diseases, including histoplasmosis and cryptococcosis.
Histoplasmosis is a disease caused by a fungus that grows in pigeon droppings. The fungus can also be found in bat droppings or in the soil, and is carried by the wind. When removing droppings, people may breathe in some of the fungus. When exposure is high, the fungus can cause infection.
Cryptococcosis is another fungal disease related to pigeon droppings and grows in soils throughout the world. It is very unlikely that healthy people will become infected even at high levels of exposure. A major risk factor for infection is a compromised immune system.
The union representing transit workers also said it would be looking into the situation.
"We want to thank transit riders for bringing these concerns forward, which we certainly take seriously," Everett Rudolph, Executive Vice President for the ATU said in an email statement.
The City of Winnipeg said the station is cleaned twice a week.
"Orkin Canada was contracted by Winnipeg Transit in the beginning of November to assess and provide recommendations based on industry best practices," said a city spokesperson.
"They immediately performed an evaluation of the site, and recommended installing feeder units in the vicinity of Osborne Station containing 'OvoControl P' which controls the reproduction of pigeons."
Two feeder units installed in late November are being filled with bait daily, said the city.
"The program will run for a trial period of six months, during which time we will evaluate the effectiveness of the program."
Pigeon Patrol Products & Services is the leading manufacturer and distributor or bird deterrent (control) products in Canada. Pigeon Patrol products have solved pest bird problems in industrial, commercial, and residential settings since 2000, by using safe and humane bird 
deterrents with only bird and animal friendly solutions. At Pigeon Patrol, we manufacture and offer a variety of bird deterrents, ranging from Ultra-flex Bird Spikes with UV protection, Bird Netting, 4-S Bird Gel and the best Ultrasonic and audible sound devices on the market today.
Voted Best Canadian wholesaler for Bird Deterrent products ten years in a row. 

Contact us at 1 877-4-NO-BIRD,(604) 585-9279 or visit our website at www.pigeonpatrol.ca

Pigeon/Pigeon Patrol / Pigeons Roosing / Vancouver Pigeon Control / Bird Spikes / Bird Control / Bird Deterrent / PIgeon Deterrent / Surrey Pigeon Control / Pest / Seagull deterrent / Vancouver Pigeon Blog / Birds Inside Home / Pigeons in the cities / Ice Pigeons / What to do about pigeons / sparrows, Damage by Sparrows, How to Keep Raccoons Away, Why Are Raccoons Considered Pests / De-fence / Pigeon Nesting / Bird Droppings / Pigeon Dropping / woodpecker control / Professional Bird Control Company / Keep The Birds Away / Birds/rats/seagull/pigeon/woodpecker/dove/sparrow/pidgeon control/pidgeon problem/pidgeon control/flying rats/pigeon problems/ bird netting/bird gel/bird spray/bird nails/bird guard