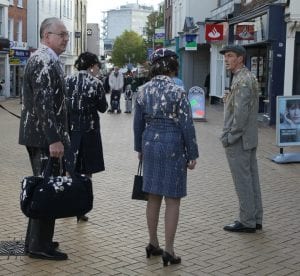 Two people died this month after contracting a fungal infection linked to pigeon droppings.
According to The Guardian, investigators believe the individuals contracted the disease at the Queen Elizabeth University Hospital in Glasgow, Scotland. The patients—a child and an elderly man—were being treated for Cryptococcus, an airborne fungus that's typically linked to wild bird feces. NHS Greater Glasgow and Clyde, the board that runs the hospital, confirmed that the senior man died from unrelated the causes, while the factors contributing to the child's death are still under investigation.
NHS officials announced the hospital has taken "control measures" to ensure other patients aren't infected. Though Cryptococcus is considered harmless to the majority of humans, the hospital has installed portable air filters to prevent further infections. A small group of child and adult patients who may be vulnerable to the infection been given preventative medication. Officials also said the likely source was found in a non-public hospital room that has since been cleaned.
"[…] Most people who are exposed to it never get sick from it," Teresa Inkster of NHSGGC told The Guardian. "We are continuing to monitor the air quality and these results are being analyzed. It remains our priority to ensure a safe environment for patients and staff."
The hospital has not identified any other Cryptococcus cases since the control measures were implemented.
The NHS said it could not provide any more details about the aforementioned deaths due to patient confidentiality.
About Pigeon Patrol:
Pigeon Patrol Products & Services is the leading manufacturer and distributor of bird deterrent (control) products in Canada. Pigeon Patrol products have solved pest bird problems in industrial, commercial, and residential settings since 2000, by using safe and humane bird deterrents with only bird and animal friendly solutions. At Pigeon Patrol, we manufacture and offer a variety of bird deterrents, ranging from Ultra-flex Bird Spikes with UV protection, Bird Netting, 4-S Gel and the best Ultrasonic and audible sound devices on the market today.
Voted Best Canadian wholesaler for Bird Deterrent products four years in a row.
Contact Info: 1- 877– 4– NO-BIRD (www.pigeonpatrol.ca)