EPPING – The fate of a homing pigeon that stopped by the Epping police station after getting lost on a flight home to Massachusetts is unknown.
The 4-month-old bird hasn't been seen since it was released from police custody earlier this month.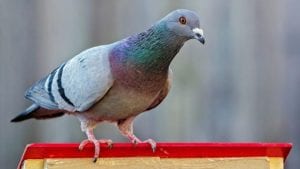 The pigeon first arrived outside the police station on Sept. 29. Worried about its safety, police took the bird into custody and held him over night.
Police learned that his owner was Gerry Gaumond of New Braintree, Mass., and that he became lost during a pigeon race that began in New York. He was expected to return home with the rest of Gaumond's pigeons participating in the race, but it's believed that he lost his way because he's young and inexperienced.
Police released the pigeon on Sept. 30 and assumed he would make it home by the end of the day. However, he was found a short distance away and returned to the police department.
A second attempt to send the bird home on its own was made on Oct. 3 when Animal Control Officer Bill Hansen brought the pigeon to Depot Road in the area of the Exit 6 on-ramp to Route 101 and let him go.
The bird didn't immediately take off. It flew up onto the roof of a house nearby and perched itself there.
Hansen didn't hang around to see if the pigeon would leave. He assumed it would get its bearings and take off when it was ready.
"The last time I saw him he was sitting on that roof," Hansen said Thursday.
Police received sightings of the pigeon in the area where it was released days later, but no one seems to know where he ended up.
Gaumond said it's possible the pigeon could still fly home, but unlikely.
"Every day the chances get slimmer, but you never know. There's a one in a million chance," he said.
Gaumond, who races pigeons with his daughter through a club, said he's had pigeons arrive home two months after they disappeared.
But their chances of survival diminish the longer they're in the wild as they become easy prey for other animals.
Gaumond will soon begin breeding more pigeons to fly in races next year.
Pigeon Patrol Products & Services is the leading manufacturer and distributor or bird deterrent (control) products in Canada. Pigeon Patrol products have solved pest bird problems in industrial, commercial, and residential settings since 2000, by using safe and humane bird 
deterrents with only bird and animal friendly solutions. At Pigeon Patrol, we manufacture and offer a variety of bird deterrents, ranging from Ultra-flex Bird Spikes with UV protection, Bird Netting, 4-S Bird Gel and the best Ultrasonic and audible sound devices on the market today.
Voted Best Canadian wholesaler for Bird Deterrent products ten years in a row. 

Contact us at 1 877-4-NO-BIRD,(604) 585-9279 or visit our website at www.pigeonpatrol.ca

Pigeon/Pigeon Patrol / Pigeons Roosing / Vancouver Pigeon Control / Bird Spikes / Bird Control / Bird Deterrent / PIgeon Deterrent / Surrey Pigeon Control / Pest / Seagull deterrent / Vancouver Pigeon Blog / Birds Inside Home / Pigeons in the cities / Ice Pigeons / What to do about pigeons / sparrows, Damage by Sparrows, How to Keep Raccoons Away, Why Are Raccoons Considered Pests / De-fence / Pigeon Nesting / Bird Droppings / Pigeon Dropping / woodpecker control / Professional Bird Control Company / Keep The Birds Away / Birds/rats/seagull/pigeon/woodpecker/dove/sparrow/pidgeon control/pidgeon problem/pidgeon control/flying rats/pigeon problems/ bird netting/bird gel/bird spray/bird nails/bird guard