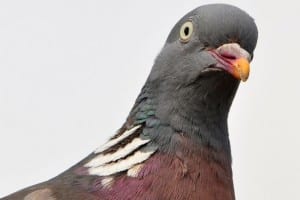 The wife of a South Croydon motorcyclist who died after he was hit by pigeon has said he was the "rock of the family".
Mahnaz Niazi, 34, was at home when police knocked on her door to tell her the tragic news that her 35-year-old husband Ashar had died in a crash.
It is believed Ashar, while riding his "dream bike", a Yamaha R1M, was hit by a pigeon as he travelled down the A22 in Godstone with three friends on August 14. He was pronounced dead at the scene.
Mahnaz, who will now have to raise their two children, Aisha, 6, and Yaseen, 4, without her husband, says the loss has had a heartbreaking impact on their family.
She told the Croydon Advertiser: "He was really hands on with the kids, always helping out a lot, putting them to sleep and making them breakfast.
"The children doted on their father. It's a really big change in our lives now and it's going to take time to deal with.
"He was such a positive person, he really helped me whenever I was down, putting a really positive spin on things.
"But he was rational and good with problem solving – he was the rock of the family."
The local Muslim community has come together to support the family since the death of Ashar, who was devoted to his faith, praying five times a day and completing the Hajj in his younger years – a mandatory religious pilgrimage to Mecca to be completed once in a Muslim's lifetime.
The couple, who were married 12 years, met while studying at the University of Liverpool.
Before he died, Ashar was working as an IT engineer for Education First, who have since planted a tree in memory of his life.
"He did everything a good Muslim could do," said Maznah.
"It's been heartwarming to have the community come together. I didn't realise that so many people knew him, they're asking me if I need help with anything."
Ashar trained for the difficult Cisco certification, a qualification in IT networking, studying at weekends to complete the course.
Mahnaz, a learning support assistant, said: "He was one of those people who didn't have to study hard and would do well."
Close friend Asir Choudbury has also paid tribute.
Asir said about Ashar: "He had an energy and charisma that he transferred to everyone around him.
"This tragedy has taken away somebody who put his family and religion before all else."
A charity fundraiser was launched after his death. To donate to the Penny Appeal in Ash's memory, visit the Just Giving page.
About Pigeon Patrol:
Pigeon Patrol Products & Services is the leading manufacturer and distributor of bird deterrent (control) products in Canada. Pigeon Patrol products have solved pest bird problems in industrial, commercial, and residential settings since 2000, by using safe and humane bird deterrents with only bird and animal friendly solutions. At Pigeon Patrol, we manufacture and offer a variety of bird deterrents, ranging from Ultra-flex Bird Spikes with UV protection, Bird Netting, 4-S Gel and the best Ultrasonic and audible sound devices on the market today.
Voted Best Canadian wholesaler for Bird Deterrent products four years in a row.
Contact Info: 1- 877– 4– NO-BIRD (www.pigeonpatrol.ca)