PETA Supporters to Demand That Retailer Stop Cruel, Ineffective Trapping Program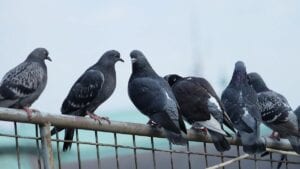 For Immediate Release:
September 6, 2018
Contact:
Brooke Rossi 202-483-7382
Los Angeles – What:    Forever 21 has reportedly hired a contractor who has been trapping pigeons at its Los Angeles headquarters, prompting PETA supporters to plan to descend on the building on Friday to urge the retailer to stop trapping the birds immediately and instead take steps to make the area unappealing to them.
When:    Friday, September 7, 2 p.m.
Where:    Forever 21 Headquarters, 3880 N. Mission Rd. (at the intersection of N. Mission Road and Baldwin Street), Los Angeles
The pigeon problem appears to be related to a food truck that visits the company's parking lot. PETA has attempted to work with Forever 21, offering myriad suggestions for peacefully coexisting with the birds and discouraging their presence, including simple measures such as keeping trash contained and secured and dumpsters locked, as well as barring workers and patrons from feeding the birds—but so far, it has refused to take these steps. Trapping initiatives actually backfire, because the resultant spike in the food supply accelerates breeding among survivors and inevitable newcomers, and populations then increase.
PETA—whose motto reads, in part, that "animals are not ours to abuse in any way"—points out that trapping initiatives cause animals immense suffering, as they can quickly succumb to stress, exposure, or injuries sustained in frantic attempts to escape.
"Forever 21's decision to trap pigeons who are simply trying to eke out an existence is cruel, and such initiatives can tear wild families apart, leaving orphaned young to starve," says PETA Executive Vice President Tracy Reiman. "PETA is calling on the retailer to nix this methodically cruel trapping and put into motion humane coexistence measures instead."
Pigeon Patrol Products & Services is the leading manufacturer and distributor or bird deterrent (control) products in Canada. Pigeon Patrol products have solved pest bird problems in industrial, commercial, and residential settings since 2000, by using safe and humane bird 
deterrents with only bird and animal friendly solutions. At Pigeon Patrol, we manufacture and offer a variety of bird deterrents, ranging from Ultra-flex Bird Spikes with UV protection, Bird Netting, 4-S Bird Gel and the best Ultrasonic and audible sound devices on the market today.
Voted Best Canadian wholesaler for Bird Deterrent products ten years in a row. 

Contact us at 1 877-4-NO-BIRD,(604) 585-9279 or visit our website at www.pigeonpatrol.ca

Pigeon/Pigeon Patrol / Pigeons Roosing / Vancouver Pigeon Control / Bird Spikes / Bird Control / Bird Deterrent / PIgeon Deterrent / Surrey Pigeon Control / Pest / Seagull deterrent / Vancouver Pigeon Blog / Birds Inside Home / Pigeons in the cities / Ice Pigeons / What to do about pigeons / sparrows, Damage by Sparrows, How to Keep Raccoons Away, Why Are Raccoons Considered Pests / De-fence / Pigeon Nesting / Bird Droppings / Pigeon Dropping / woodpecker control / Professional Bird Control Company / Keep The Birds Away / Birds/rats/seagull/pigeon/woodpecker/dove/sparrow/pidgeon control/pidgeon problem/pidgeon control/flying rats/pigeon problems/ bird netting/bird gel/bird spray/bird nails/bird guard