Filmmaker Michael Bay has been charged with killing a pigeon back in 2018 while filming a movie in Italy.
The Wrap reported that the Transformers director was accused of killing the bird during the production of Netflix's 6 Underground in Rome.
Authorities claim the homing pigeon was killed on a moving dolly during a take.
Pigeons are protected in both Italy and in the European Union under the Birds Directive, which states it is illegal to 'kill, trap or trade' them.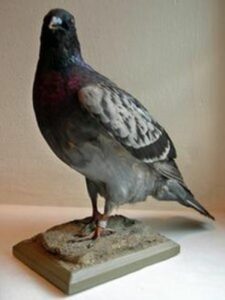 According to The Wrap, an individual who was allegedly present when the incident occurred on set reported it to Italian police shortly after. However, Bay has fiercely denied these claims.
He told the outlet: "I am a well-known animal lover and major animal activist.
"No animal involved in the production was injured or harmed. Or on any other production I've worked on in the past 30 years."
Bay and his legal team have made multiple attempts to have the case thrown out in court.
The director maintains as he has video evidence of the incident, which proves he is innocent.
He said: "We have clear video evidence, a multitude of witnesses, and safety officers that exonerates us from these claims. And disproves their one paparazzi photo — which gives a false story."
He added: "There is an ongoing court case so I cannot get into the specifics, but I am confident we will prevail when I have my day in court.
While Italian authorities have offered to settle the case with the director paying a small fine, Bay refused as he did not want to 'plead guilty to having harmed an animal'.
The 2018 flick 6 Underground follows a group of people who fake their own deaths and form a vigilante team to stage a coup d'état against a ruthless dictator.
The film stars Ryan Reynolds, Dave Franco, Melanie Laurent and Corey Hawkins.
And, just like all of Bay's movies, 6 Underground had a whopping budget of USD $150 million (AUD 216m).
But despite this, it was a flop according to Netflix's head of original films, Scott Stuber.
"We didn't feel like we got there on that one creatively," Stuber told Variety.
"It was a nice hit, but at the end of the day we didn't feel like we nailed the mark to justify coming back again.
"There just wasn't that deep love for those characters or that world."
Pigeon Patrol Products & Services is the leading manufacturer and distributor or bird deterrent (control) products in Canada. Pigeon Patrol products have solved pest bird problems in industrial, commercial, and residential settings since 2000, by using safe and humane bird 
deterrents with only bird and animal friendly solutions. At Pigeon Patrol, we manufacture and offer a variety of bird deterrents, ranging from Ultra-flex Bird Spikes with UV protection, Bird Netting, 4-S Bird Gel and the best Ultrasonic and audible sound devices on the market today.
Voted Best Canadian wholesaler for Bird Deterrent products ten years in a row. 

Contact us at 1 877-4-NO-BIRD,(604) 585-9279 or visit our website at www.pigeonpatrol.ca

Pigeon/Pigeon Patrol / Pigeons Roosing / Vancouver Pigeon Control / Bird Spikes / Bird Control / Bird Deterrent / PIgeon Deterrent / Surrey Pigeon Control / Pest / Seagull deterrent / Vancouver Pigeon Blog / Birds Inside Home / Pigeons in the cities / Ice Pigeons / What to do about pigeons / sparrows, Damage by Sparrows, How to Keep Raccoons Away, Why Are Raccoons Considered Pests / De-fence / Pigeon Nesting / Bird Droppings / Pigeon Dropping / woodpecker control / Professional Bird Control Company / Keep The Birds Away / Birds/rats/seagull/pigeon/woodpecker/dove/sparrow/pidgeon control/pidgeon problem/pidgeon control/flying rats/pigeon problems/ bird netting/bird gel/bird spray/bird nails/bird guard