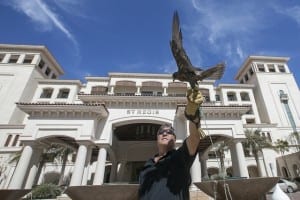 The St Regis Saadiyat has employed new staff in the battle against unsightly pigeon droppings – a full-time falconer and his birds.
Alex Louw flies his specially trained falcons on weekdays to ensure that about 300 pigeons that took residence at the five-star St Regis since it opened start looking for other, more hospitable dwellings.
To achieve this, the South African falconer flies his eight peregrine falcons, the natural prey of which are smaller birds.
"They don't kill anything but I let the birds fly for hours a day, and over months they now see the hotel as their territory. Their presence alone deters the pigeons from being here," Mr Louw said.
He will randomly select the birds on any given day so that the pigeons, which are quite smart birds, never feel like they have quite outsmarted the falcons.
The technique has achieved great results.
Marwan Fadel, a sales director at the St Regis, said within just a few months the island hotel went from 300 resident pigeons to fewer than 20 – results conventional methods failed to achieve.
"Since day one we've had a lot of pigeons and that means you're dealing with a mess," Mr Fadel said. "We tried lots of tools, such as spikes, and they weren't working."
Aside from creating an almost prison-like look, spikes on ridges, the most common deterrent for birds, simply do not work as pigeons will eventually find ways to build nests in between the points, and sometimes on top of them.
Gels, the other method, are environmental hazards that could be harmful to endangered animals' ecosystem on the protected Saadiyat Island.
So they approached Mr Louw and told him of the problem. He began training birds, and tried out a dozen from his roster of 38 before he found the right ones.
"We couldn't have them hunt the actual pigeons, despite it being the birds' instinct we thought it wouldn't be great if pigeons were being eaten by falcons in a family setting," he said.
Mr Louw has been using falcons for bird control for 25 of his 40 years in falconry.
"It's a very old idea. I used to do this 25 years ago in South Africa for the military," he said. "They had problems with birds on the runways getting in engines of planes, and so we started a falconry project there and we saved them US$2 million (Dh7.34m) in the first year just in bird strikes."
Mr Louw is passionate about falconry and gives guests at the hotel an introduction.
"After flying one of my birds, it sometimes takes me an hour to walk from the beach to my car because I get stopped so much," he said. "And I love it. I carry extra gloves so that the kids, anyone really, can hold the falcons."
Mr Louw has become a hotel attraction, and regular mention of him and his birds on Trip Advisor has been common among the hotel's almost 2,000 reviews.
"It's become a hotel attraction," said Mr Fadel. "I think we're really on to something."
About Pigeon Patrol:
Pigeon Patrol Products & Services is the leading manufacturer and distributor of bird deterrent (control) products in Canada. Pigeon Patrol products have solved pest bird problems in industrial, commercial, and residential settings since 2000, by using safe and humane bird deterrents with only bird and animal friendly solutions. At Pigeon Patrol, we manufacture and offer a variety of bird deterrents, ranging from Ultra-flex Bird Spikes with UV protection, Bird Netting, 4-S Gel and the best Ultrasonic and audible sound devices on the market today.
Voted Best Canadian wholesaler for Bird Deterrent products four years in a row.
Contact Info: 1- 877– 4– NO-BIRD (www.pigeonpatrol.ca)