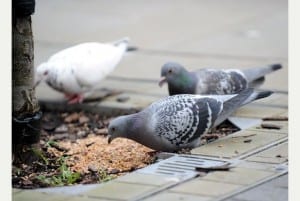 Help is being sought from experts at Purdue University to help chase away pigeons that seem at times to be overtaking the newly renovated LaPorte City Hall.
Their numbers are so high that some people coming in and out of the building are relieved not to be hit by droppings.
"Don't walk out there without your hat on," said LaPorte City Councilman Ron McAtee.
It's a problem a busy Mayor Blair Milo would rather not have to tackle, but her office is persevering, contacting Purdue University and other cities that have had success in combating pigeons for possible solutions.
"We are still working on that," said Milo.
The $1 million renovation of the historic 1913 structure was virtually completed in February at the time complaints started being voiced about large numbers of pigeons roosting close to the edge of the roof and on the ornamental metal trim.
Spikes were put on the ledges near the roof but that didn't drive them away.
Instead, the pigeons found room behind the spikes to nest or moved to window sills and other ledges to perch lower on the building.
"We've got a little more work to do on that," said McAtee.
Not only is there a risk of being pelted with droppings, but the waste littering the concrete steps leading up to the front entrance and other spots on the ground has to be cleaned.
Jason Flores, an employee of Larson Danielson Construction, said his crew has had to wipe the mess off the limestone ledges at times during the renovation and has seen nests in the soffit close to the roof's edge whenever he goes up on a lift to perform restoration work.
After the winter, there were droppings caked on parts of the exterior.
"See how it's starting to build back up again," said Flores, 39, of LaPorte.
Milo said trapping the birds is among the ideas also being explored but that would mean an organization having to come in regularly to release the pigeons.
"We want to do it in the most humane way possible," said Milo.
Gene Matzat, an educator with the Purdue extension office in LaPorte, said besides tarnishing a building, pigeons also carry disease that could spread to humans.
Matzat said possible solutions include running a thin porcupine wire with sharp metal prongs along roosting places on the building to inflict pain so the pigeons fly elsewhere.
Attaching sheet metal or wood on the stone ledges at an angle so pigeons won't feel comfortable roosting is among the other options.
Depending on what the city decides to try, there likely will be some expense.
"The results may justify the cost," said Matzat, who added farmers sometimes turn to pesticides absorbed by the feet on pigeons to kill the birds roosting inside barns and pole type structures.
In extreme cases, he said some communities have brought in birds that prey upon pigeons to reduce their numbers.
Once they're gone, though, Matzat said there is a chance the same or some other flock of pigeons will wind up back there.
"They're adaptable. They'll look for the best place for their area that they would enjoy roosting on and they'll probably find it," said Matzat.
Seems that these people should be investing in a TubeSonic!!
About Pigeon Patrol:
Pigeon Patrol Products & Services is the leading manufacturer and distributor of bird deterrent (control) products in Canada. Pigeon Patrol products have solved pest bird problems in industrial, commercial, and residential settings since 2000, by using safe and humane bird deterrents with only bird and animal friendly solutions. At Pigeon Patrol, we manufacture and offer a variety of bird deterrents, ranging from Ultra-flex Bird Spikes with UV protection, Bird Netting, 4-S Gel and the best Ultrasonic and audible sound devices on the market today.
Voted Best Canadian wholesaler for Bird Deterrent products four years in a row.
Contact Info: 1- 877– 4– NO-BIRD (www.pigeonpatrol.ca)