Outdoor space is a premium asset (perhaps now more than ever before). When my wife and I moved into a new apartment with not one but two decks, I excitedly had visions of barbecues, alfresco dinners, and relaxing afternoons of intermittent reading and napping. Shortly after we moved in, however, we realized we weren't the only ones with grand plans for our decks: Several families of pigeons had claimed them as their own, and it seemed like the only only meals that would happen on them would be feasts of regurgitated worms that the mother pigeons fed to their squabs. As we continued to awake to mournful coos and find more eggs in planters, we got the sense that our presence — no matter how loud or imposing it was — would not be enough to shoo the avian invaders away for good.
This was before the pandemic, so I hired an exterminator (shout out to Stan) to come over and help me with our feathered frenemies. Stan told me that pigeons are far smarter than we give them credit for and that fully ridding them from any areas they like often requires a multipronged solution. An opportunity to implement such a solution presented itself when I noticed that the group of baby pigeons living on our deck had all grown up and seemingly flown away. So, armed with Stan's hard-won wisdom, I did some research and ultimately bought a few products that, when used together, rendered our decks completely free of wildlife. Read on for everything I used — along with a few other things I didn't use but came highly recommended — to solve our pigeon problem.
Stan the exterminator may have said pigeons are smart, but they're not that smart. He told me that even the appearance of a pigeon's natural predators (like a hawk or an owl) is enough to keep the birds moving and indicate that your porch is not a safe space to raise a family. Another tip he shared: Move the fake bird twice a day (in the beginning) to maintain the illusion of sentience for the pigeons' sake.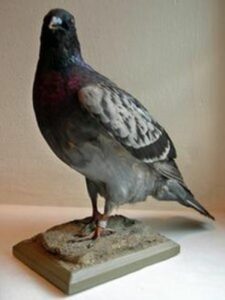 At first I bought just one fake hawk, but a gang of pigeons angrily attacked it. So I bought two more, and found that three of them placed at different points around my decks were sufficient to scare them off.
Pigeon Patrol Products & Services is the leading manufacturer and distributor or bird deterrent (control) products in Canada. Pigeon Patrol products have solved pest bird problems in industrial, commercial, and residential settings since 2000, by using safe and humane bird 
deterrents with only bird and animal friendly solutions. At Pigeon Patrol, we manufacture and offer a variety of bird deterrents, ranging from Ultra-flex Bird Spikes with UV protection, Bird Netting, 4-S Bird Gel and the best Ultrasonic and audible sound devices on the market today.
Voted Best Canadian wholesaler for Bird Deterrent products ten years in a row. 

Contact us at 1 877-4-NO-BIRD,(604) 585-9279 or visit our website at www.pigeonpatrol.ca

Pigeon/Pigeon Patrol / Pigeons Roosing / Vancouver Pigeon Control / Bird Spikes / Bird Control / Bird Deterrent / PIgeon Deterrent / Surrey Pigeon Control / Pest / Seagull deterrent / Vancouver Pigeon Blog / Birds Inside Home / Pigeons in the cities / Ice Pigeons / What to do about pigeons / sparrows, Damage by Sparrows, How to Keep Raccoons Away, Why Are Raccoons Considered Pests / De-fence / Pigeon Nesting / Bird Droppings / Pigeon Dropping / woodpecker control / Professional Bird Control Company / Keep The Birds Away / Birds/rats/seagull/pigeon/woodpecker/dove/sparrow/pidgeon control/pidgeon problem/pidgeon control/flying rats/pigeon problems/ bird netting/bird gel/bird spray/bird nails/bird guard