Pigeon Patrol wonders if the Council staff will follow through with their threats?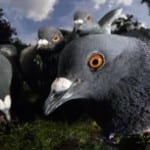 There are large numbers of pigeons that sit on roof canopies of shops and in pathways, particularly Bowen Square and Foundry Place.
Apart from looking unsightly, spores from dried bird droppings can spread diseases similar to pneumonia and influenza if they are inhaled as dust and carried by the wind.
The new signs ask shoppers not to feed the birds and warn them that they could face a fine or prosecution for doing so.
David Cribbin said: "Feeding the birds is technically littering and can cause a potential health hazard.
"The new signs in the town center make it clear not to feed the birds and that people could be fined or prosecuted for doing so. However we hope that it won't come to that and that these signs will act as an effective deterrent."
Pigeon Patrol offers clients a variety of services for Bird Control that will suit the needs of their facility. Pigeon Patrol products have solved pest bird problems in industrial, commercial, and residential settings by using safe and humane bird deterrents with only bird and animal friendly solutions.