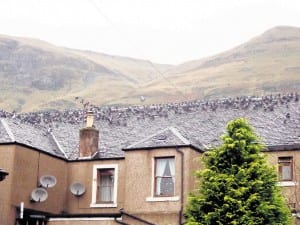 CASTLEHILL Church has been made secure ahead of a major clean-up inside.
The privately owned building has become a roosting place for hundreds of pigeons, who have been able to access the building via slats in the roof and gaps in the stained glass windows.
Following pressure from the public and Moray Council during the summer, owner Claire Love has employed John Still Steeplejacks of Aberdeen to carry out the task.
Neighbouring manse owner, Kay Ferrett's family suffered more than most from an infestation of flies plaguing the west end of Forres High Street, believed to be coming from numerous bird carcasses and droppings inside the church.
"Work has started on pigeon removal and clean up," confirmed Ms Love in a brief email to the 'Gazette'.
Mrs Ferrett was able to see the size of the task for herself when she went inside with the contractors.
"It's nuts," she said. "I never thought it would be this bad!
"They gave me a surgical mask to wear and I was escorted inside via the basement entrance.
"What I saw was horrendous – I was shocked by the mess and overcome by the smell, even through the mask. There was so much excrement and dead pigeons everywhere.
"It's absolutely covered in poo and pigeons so I'm not surprised there were so many flies in my house over the summer."
John Still Steeplejacks, roofers, slaters and joiners, also deal with bird and pest control.
"Our job is to clear the church of wildlife then clean up any mess they've made," said Mr Still.
"We have no specific time frame but we want to get it done as quickly as possible as we have other commitments to keep."
Homes and businesses near the church endured an invasion of flies during the summer, many believe were a result of what was inside.
Having seen them for herself, Mrs Ferrett hopes the clean-up will stop a repeat.
"Once we got upstairs, apart from what was underfoot, I was overcome by the beauty of the hall. It's such a shame that it has been allowed to get into the state it's in now.
"I was upset to hear that the church owner did not stick to the time lines for the clean-up set by the local authority during the last few months
"Thankfully they're dealing with it now but I'm told it will take a few months to clean up."
Moray Council will not be taking any enforcement action.
"The owner appears to be complying with what was requested of her in terms of boarding up the windows etc to prevent birds getting in and cleaning up the mess," said a spokesman. "Assuming the owner is doing everything that was asked of her, we will not be taking any action."
Meanwhile, a collapsing wall on the west wing continues to pose a problem for the community. Youths previously accessed the building at that side before it was secured.
Mr Still warned that it continues to be an issue: "A lower flat roof inside on the west wing is dangerous," he said. "Particularly if anyone was to stand on it.
"We plan to put warning signs up to warn folk."
About Pigeon Patrol:
Pigeon Patrol Products & Services is the leading manufacturer and distributor of bird deterrent (control) products in Canada. Pigeon Patrol products have solved pest bird problems in industrial, commercial, and residential settings since 2000, by using safe and humane bird deterrents with only bird and animal friendly solutions. At Pigeon Patrol, we manufacture and offer a variety of bird deterrents, ranging from Ultra-flex Bird Spikes with UV protection, Bird Netting, 4-S Gel and the best Ultrasonic and audible sound devices on the market today.
Voted Best Canadian wholesaler for Bird Deterrent products four years in a row.
Contact Info: 1- 877– 4– NO-BIRD (www.pigeonpatrol.ca)