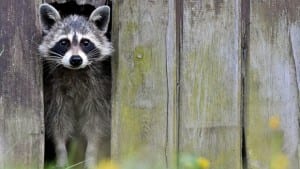 Don't blame the raccoons for this one.
At least one of Toronto's new supposedly raccoon-proof green bins has been chewed up a week after it was wheeled out in Scarborough.
Brad Gates of Gates Wildlife tells Moore in the Morning it looks to him that this is the work of either a squirrel or a rat.
The bite marks on the bin's plastic lid tell the tale.
The city's response to the chewed up bin? Try a home remedy: sprinkle a bit of hot sauce on the lid.
"It is not indestructible," Jim McKay, general manager of solid waste services, says of the new bin.
He says the unique part of the new bin is the locking lid. The rest of it is pretty standard.
McKay says the plastic is basically the same material and thickness as the old bins, which also had squirrel problems.
He does not sound too concerned, adding that only 0.5 per cent of the old bins would have to be replaced each year due to animal damage.
Gates adds there will be pockets of Toronto more overrun by squirrels where the new green bins will be "rendered useless".
But Gates says there is not much that can guarantee rodents stay out.
"We see raccoons and squirrels chew through metal all the time in our business," he warns. "As long as they can get an edge to start to open up a hole, they will begin to chew on it."
Mayor John Tory, who has been a part of two staged photo ops in the last year to show off the new bins joked about the breach on twitter.
Speaking on the Moore in the Morning roundtable councillor Shelley Carroll says city staff has some explaining to do.
"We guaranteed to people that you gotta do the change-out, the locking mechanism will keep out the raccoons. How did they not know about this?"
The city is paying a California firm $31-million for a 10-year contract to replace and maintain Toronto's 500,000 green bins.
About Pigeon Patrol:
Pigeon Patrol Products & Services is the leading manufacturer and distributor of bird deterrent (control) products in Canada. Pigeon Patrol products have solved pest bird problems in industrial, commercial, and residential settings since 2000, by using safe and humane bird deterrents with only bird and animal friendly solutions. At Pigeon Patrol, we manufacture and offer a variety of bird deterrents, ranging from Ultra-flex Bird Spikes with UV protection, Bird Netting, 4-S Gel and the best Ultrasonic and audible sound devices on the market today.
Voted Best Canadian wholesaler for Bird Deterrent products four years in a row.
Contact Info: 1- 877– 4– NO-BIRD (www.pigeonpatrol.ca)