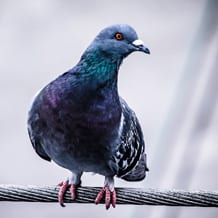 OTTERVILLE — When Don Bryant was 11 years old in Belleville, while riding his bike home from school he saw a group of pigeons fly over his head, which led him to his mentor.
Impulsively, he followed the birds to the home of Clarence Haymann, who as his mentor, started Bryant, now 83, with his first pair of pigeons.
After his first pigeon pair, he got another pair and started raising squabs, or baby pigeons, until he had six or seven pair. He spent time with people who raised and raced pigeons to find out how they did it, what to feed them and how to race them himself. His first loft was in the back of his parent's chicken coop.
"It amazed me how pigeons could find their way home from hundreds of miles away," marveled Bryant, who has had a cottage in Chautauqua for almost 50 years. "A combination of an extremely accurate internal 'sun clock' and magnetic fields enable the birds to return home.
"My best friend, Kenny Borsch, became interested in pigeons, too, and we started training young birds. We were too young to drive a car, so we wired boxes to our bicycles and rode three or four miles to let the birds out to fly home. After awhile, we talked Kenny's grandfather into driving us 10 miles away to train our birds."
Bryant built his first loft from lumber he got from a construction site where they were building a bridge.
"I talked the boss into giving me the lumber. They were going to throw it away and I built the loft myself," he recalled.
Homing pigeons were introduced to the United States in the mid-1800s. In the 1880s, the first 500-mile race took place in this country. Homing pigeons race from 80 to 600 miles at speeds of 40 to 60 mph, over terrain they have often never seen before.
Pigeons have long played an important role in war. Due to their homing ability, speed and altitude, they were often used as military messengers. Carrier pigeons of the Racing Homer breed were used to carry messages in World War I, World War II and the Korean War. They ceased being used as of 1957. They saved thousands of lives while in military service.
Bryant loves long-distance flying. His pigeons fly 100 to 600 miles. When he was 13, he flew his pigeons in one of his first races, which was a 500-mile race. He should have won, but his lack of knowledge caused him to lose first place. He didn't realize you needed to watch your loft to clock your bird in, the minute it returns to the loft.
He went to the movies instead and didn't clock in his bird until the next morning. His bird was second, but would have won if he had clocked her in when she returned to the loft. He doesn't remember the movie he saw, but he never forgot the valuable lesson he learned: stay by your loft.
"To raise money, I had to shine shoes, haul ashes and cut grass to support my pigeons," Bryant said.
When Bryant enlisted in the U.S. Navy in 1951, he gave Kenny all his pigeons. When he came out of the Navy, he met and married his wife, Lynn Schleicher, and raised a family. He didn't raise pigeons for a number of years.
He began his career in real estate in 1966. He didn't raise or race pigeons while he was becoming one of the top Realtors in the Riverbend and building his own business — Don Bryant's Gallery of Homes. He sold his business in 1983.
When he became interested in flying pigeons again, he went into it in a big way. He has four lofts in Otterville, with a partner, Tim Widowski. Two of the lofts are breeding lofts, one is a racing loft and the last loft is for his special birds. Their loft is named "Union Forest."
The loft has two 15-year-old Houbens and two Stuart Browns. They are the foundation of Widowski and Bryant's lofts. In all, Bryant and Widowski have more than 100 birds.
"Our birds are great. We carefully breed and train them in order to raise the best birds," Bryant said.
There are two 10-week periods of racing every year. Old birds fly from April through June. The youngsters start racing in mid-August and fly until mid-October.
Bryant has been very successful in racing his pigeons. His pigeons have won in old-bird races in the last two years: Champion Bird Illinois twice, Champion Loft twice, Master Loft twice, Average Speed in 22 races and National Award 15th in the United States in 2014. The award Bryant is most proud of is that, in 2015, of his bird "Sissy Jane," which placed second in the United States in the National Ace Old Bird Marathon Distance Standings.
Homing pigeons have pedigrees like racehorses. They are bred and trained with the same care bestowed upon their equine counterparts. Some international races award large cash prizes. Purses can be as high as $600,000. Racing pigeons have sold for more than $260,000 each.
"Being an American and my wife and family are the most important things in my life," Bryant said.
Bryant and his wife have one son, Chuck Bryant, and two daughters, Donna Minard and Sally Voorhes. Bryant is still busy building and remodeling houses.
"At 83, it keeps me young," Bryant declared.
About Pigeon Patrol:
Pigeon Patrol Products & Services is the leading manufacturer and distributor of bird deterrent (control) products in Canada. Pigeon Patrol products have solved pest bird problems in industrial, commercial, and residential settings since 2000, by using safe and humane bird deterrents with only bird and animal friendly solutions. At Pigeon Patrol, we manufacture and offer a variety of bird deterrents, ranging from Ultra-flex Bird Spikes with UV protection, Bird Netting, 4-S Gel and the best Ultrasonic and audible sound devices on the market today.
Voted Best Canadian wholesaler for Bird Deterrent products four years in a row.
Contact Info: 1- 877– 4– NO-BIRD (www.pigeonpatrol.ca)