Most people call Pigeon Patrol to get rid of their pigeon problems, however I am sure that this lady would not have us on her speed dial.
A Vancouver Island woman is devastated after her pet pigeon Tweety was taken to an animal rescue center, which now refuses to give the bird back.
Chemainus resident Sandy Bird, 72, rescued the pigeon from near death last March. He has lived as a member of her family ever since, accompanying Bird everywhere she went, even on car trips.
Last week, Tweety flew out of the car, but returned to the wrong vehicle. The owner of that vehicle, Mike Toole, took the bird to the BC SPCA Wild Animal Rehabilitation Centre – Wild ARC – in Metchosin.
Bird said wildlife officials tell her Tweety is better off with pigeons, but it feels like she's lost a member of the family.
"He's probably the most lonely, lost little guy in the world. He's more than just a bird," she said.
Despite this, Senior Wildlife Rehabilitator Christina Carrieres said Bird did not have the proper permits.
"It is illegal to possess any type of wildlife without a permit. They are protected under the Wildlife Act," said Carrieres.
Wildlife officials plan to transfer Tweety to another wildlife centre soon, where he can live out his days in captivity.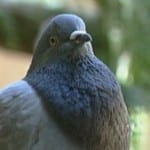 While most of our clients call Pigeon Patrol for all of their bird spike , bird spike, bird netting, 4-s Gel and Ultrasonic repellers all bird deterrents, we wish the best to this lady and hope one day she is reunited with Tweety.
For the full story the link is below:
http://www.cbc.ca/news/canada/british-columbia/b-c-woman-pleads-for-return-of-pet-pigeon-1.2192478