There are over sixty bacterial diseases, viruses, funguses and parasites associated with pigeons. The most problematic for humans would be Histoplasmosis and Cryptococcus. In addition there are: Trichomonisasis, Encephalitis, Meningitis, Pasteurellosis, Blastomycosis, Sarcosporidiosias, Toxoplasmosis, Candidiasis, Lisreiosis, Vibriosis, Salmonella and Paratyphoid. The National Institute of Health has reported a potentially blinding eye condition that probably results from the fungus. In some areas such as parts of Illinois, up to 80% of the population is reported to have been infected at some point.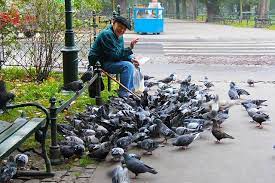 According to the Washington State DFW, pigeons are excluded from the Migratory Bird Act:
Their nests, eggs, young, and/or adults may be removed or destroyed at any time. No permit is required.
And generally what you find about pigeons indicates they are most often treated as a pest and so you have exterminators and wildlife removal services dealing with them. Trapping is probably fine, but of course any type of shooting in an urban area will be a no-no.
Pigeon Patrol Products & Services is the leading manufacturer and distributor of bird deterrent (control) products in Canada. Pigeon Patrol products have solved pest bird problems in industrial, commercial, and residential settings since 2000, by using safe and humane bird deterrents with only bird and animal friendly solutions. At Pigeon Patrol, we manufacture and offer a variety of bird deterrents, ranging from Ultra-flex Bird Spikes with UV protection, Bird Netting, 4-S Bird Gel and the best Ultrasonic and audible sound devices on the market today.
Voted Best Canadian wholesaler for Bird Deterrent products ten years in a row.
Contact us at 1- 877– 4– NO-BIRD, (604) 585-9279 or visit our website at www.pigeonpatrol.ca
Pigeon/Pigeon Patrol / Pigeons Roosting / Vancouver Pigeon Control /Bird Spikes / Bird Control / Bird Deterrent / Pigeon Deterrent?  Surrey Pigeon Control / Pest /Seagull deterrent / Vancouver Pigeon Blog / Birds Inside Home / Pigeons in the cities / Ice Pigeons/ What to do about pigeons/ sparrows , Damage by Sparrows, How To Keep Raccoons Away,  Why Are Raccoons Considered Pests/ De-fence / Pigeon Nesting/ Bird Droppings / Pigeon Dropping/ woodpecker control/ Professional Bird Control Company/ Keep The Birds Away/ Birds/rats/ seagull/pigeon/woodpecker/ dove/sparrow/pidgeon control/pidgeon problem/ pidgeon control/flying rats/ pigeon Problems/ bird netting/bird gel/bird spray/bird nails/ bird guard