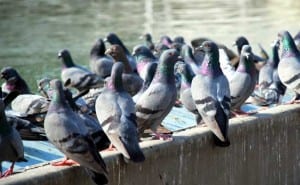 PATTERSON (CBS13) – Pat Rocca has a pigeon problem. The birds have left her walkway stained, feathers stuck to the house and droppings everywhere.
"I thought well this is a horror.'" Pat said. "It's very sticky and gooey, just terrible."
She hired Albert Filmore Pigeon Cleanup, who services Stanislaus County, and paid him $680 to clean up the mess and prevent pigeons from coming back to roost or nest on her house.
The contract she signed promised return visits "two times a week for the next 8 weeks."
But, five months went by and Pat said Albert only came out twice.
"He didn't finish the job.'
Pat said the pigeons came back, and Albert has been a no show to appointments – blaming family issues. And she said Albert would not return her calls.
"We have had very similar complaints," said Gary Almond with the Better Business Bureau.
He said his office has been unable to find Albert Filmore.
Almond said a company still has a responsibility to finish the work, even if personal issues arise.
"I'd offer a refund or offer someone else to complete the service," he said.
So, how do you keep pigeons away?
To find out, we brought in Pest Management expert Jim Steed.
"The trick is to employ the right measures in the right spots," Jim said.
Depending on the house, he'll use different bird spikes or even shock tracks to keep the birds from landing.
Bird repellent glue is a popular method, and Jim says it works best when combined with other methods. But because it is sticky, dirt will eventually stick to it – making it ineffective.
If the pigeons are nesting, Steed says netting should be put up.
He says professional removal and clean up services can cost anywhere from $600 to $3,000.
"If you leave 10 percent of the area [unprotected], they're still here." Jim said.
As for Pat, we reached out to Albert Filmore. He told us he's had "a lot of issues" but agreed to give her "whatever she thinks I owe her."
In the end, Albert returned $400 of the $680 Pat paid him.
She said she'll be hiring someone else to finish the job.
"I know this will only get worse," Pat said, pointing to signs of pigeons around her home.
About Pigeon Patrol:
Pigeon Patrol Products & Services is the leading manufacturer and distributor of bird deterrent (control) products in Canada. Pigeon Patrol products have solved pest bird problems in industrial, commercial, and residential settings since 2000, by using safe and humane bird deterrents with only bird and animal friendly solutions. At Pigeon Patrol, we manufacture and offer a variety of bird deterrents, ranging from Ultra-flex Bird Spikes with UV protection, Bird Netting, 4-S Gel and the best Ultrasonic and audible sound devices on the market today.
Voted Best Canadian wholesaler for Bird Deterrent products four years in a row.
Contact Info: 1- 877– 4– NO-BIRD (www.pigeonpatrol.ca)