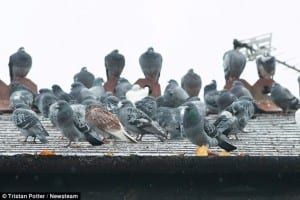 We're starting to get reports in concerning an unfortunate incident at the Parce offices located in the Facebook Menlo Park, California office complex.
Earlier today, in an effort to expand Parce's reach within the developer community, it introduced a new service to take on Amazon's drone delivery service with a new Parce "Pigeon" service, an initiative to deliver app developers new and unique products centered around on-demand delivery.
Details are sketchy for what we understand is now being compared to the great frozen turkey drop accident (as seen in a 1978 television episode of WKRP) where frozen turkeys were dropped out of a helicopter to unsuspecting observers in a publicity stunt gone bad.
Our understanding is that during the official announcement of the new Parce bird based platform, a number of pigeon's were released inside the company offices. From what we have heard, the pigeons had been cooped up in cages for several hours and upon release, instinct and nature took over as the executives, attendees and bystanders were bombarded with pigeon droppings.
We've been unable to get any official comment, however off the record one observer commented "I've never seen any bird act with such specific purpose, the pigeons obviously were well trained in their delivery function, but without packages to drop, well…it looked as if they were determined to drop something."
We understand no-one was hurt, however Menlo Park area dry cleaning companies were reporting record traffic. We'll update this report as we learn more.
About Pigeon Patrol:
Pigeon Patrol Products & Services is the leading manufacturer and distributor of bird deterrent (control) products in Canada. Pigeon Patrol products have solved pest bird problems in industrial, commercial, and residential settings since 2000, by using safe and humane bird deterrents with only bird and animal friendly solutions. At Pigeon Patrol, we manufacture and offer a variety of bird deterrents, ranging from Ultra-flex Bird Spikes with UV protection, Bird Netting, 4-S Gel and the best Ultrasonic and audible sound devices on the market today.
Voted Best Canadian wholesaler for Bird Deterrent products four years in a row.
Contact Info: 1- 877– 4– NO-BIRD (www.pigeonpatrol.ca)