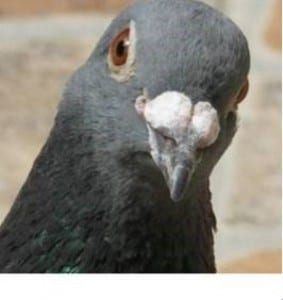 In just a few weeks, an Alberta man and a pigeon that showed up at his ranch have become inseparable.
Greg and Maureen Germscheid say the pigeon, which Greg calls Pidge, first flew onto their property last September.
"He looked so terrible when he came here," Maureen Germscheid told CTV Edmonton.
Their concern grew through the fall, as Pidge continued to show up at the ranch near Entwistle, Alta. A few weeks ago, Greg decided to pick up the pigeon. When the bird didn't resist or struggle, he says, a bond was formed.
The Germscheids soon found themselves amazed by Pidge's quirks and seeming intelligence. The bird responds to mentions of its new name and seems eager to accompany Greg on his tractor and the occasional sleigh ride.
About Pigeon Patrol:
Pigeon Patrol Products & Services is the leading manufacturer and distributor of bird deterrent (control) products in Canada. Pigeon Patrol products have solved pest bird problems in industrial, commercial, and residential settings since 2000, by using safe and humane bird deterrents with only bird and animal friendly solutions. At Pigeon Patrol, we manufacture and offer a variety of bird deterrents, ranging from Ultra-flex Bird Spikes with UV protection, Bird Netting, 4-S Gel and the best Ultrasonic and audible sound devices on the market today.
Voted Best Canadian wholesaler for Bird Deterrent products four years in a row.
Contact Info: 1- 877– 4– NO-BIRD (www.pigeonpatrol.ca)