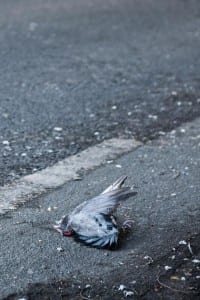 A FRESH complaint has put the cat amongst the pigeons on Forres High Street.
Following a story which appeared in the 'Gazette' in January about health risks caused by the birds roosting on the town hall, a concerned member of the public pointed out that the problem is just as bad, if not worse, at the top of Bank Lane next to the most central bus stop in the town.
"The mess on Bank Lane is something that affects everyone here," said the complainer, who wishes to remain anonymous.
"These include people waiting at the bus stop, schoolchildren using the lane and anyone who parks in the car park behind the bank. What a terrible sight for our visitors to see and walk through too!"
The local woman claimed that until recently, piles of festering pigeon faeces had been left on the thoroughfare for at least a year.
"I see children walk up and down there every day," she said. "When it rains the mess turns slushy. It gets on their shoes and
is brought with them wherever they go.
"My concern is that this will be an ongoing problem if it is not cleaned regularly and the mess is already building up again."
She added: "The owner of the building will need to pigeon-proof the windows.
"If Moray Council will not insist the owner puts netting on the windows, then who is responsible for cleaning up the mess?"
The owners of neighbouring takeaway Chicken Hut have attempted to tackle the problem themselves.
"We don't want people to see or stand in it," said chef Mohamed Elmerzougui. "So we have to clean it up once or twice a week. It's a big problem.
"The pigeons live on the roof of the building, so aren't scared off by passers-by. The council should clean up their mess and do something about them."
Mohamed's colleague Nacerddine Leghroumi claimed he hadn't seen anyone from Moray Council attempt to deal with the issue.
"We have to clean it up or it reflects badly on us," he said. "It takes about three hours in total to sort out the mess that's up to 2cm deep.
"We scrape it off the surface with a metal brush, then use a shovel to take it away. We then throw hot soapy water down, then
finally, an hour later, slowly brush off anything that remains."
He added: "We have never seen Moray Council do the work in the six months since we took over."
Forres Community Council has been made aware of the complaint and passed it on to Moray Council's environmental services department.
"The area was brushed and power washed," said a council spokesperson.
"Pigeon droppings are on ongoing problem in this area and the council cleans it as and when resources allow.
"Feral pigeons will take advantage of any suitable roosts in builtup areas and will often roost there night after night, with the result that their droppings accumulate.
"Building owners can take measures to proof their properties against roosting and nesting pigeons in much the same way as they can to deter gulls."
About Pigeon Patrol:
Pigeon Patrol Products & Services is the leading manufacturer and distributor of bird deterrent (control) products in Canada. Pigeon Patrol products have solved pest bird problems in industrial, commercial, and residential settings since 2000, by using safe and humane bird deterrents with only bird and animal friendly solutions. At Pigeon Patrol, we manufacture and offer a variety of bird deterrents, ranging from Ultra-flex Bird Spikes with UV protection, Bird Netting, 4-S Gel and the best Ultrasonic and audible sound devices on the market today.
Voted Best Canadian wholesaler for Bird Deterrent products four years in a row.
Contact Info: 1- 877– 4– NO-BIRD (www.pigeonpatrol.ca)