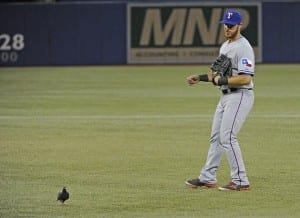 While the Toronto Blue Jays were supposedly violating the unwritten rules of baseball in their 4-1 win over the Texas Rangers on Saturday, a pair of rogue pigeons found their way on to the field at Rogers Centre despite the roof being closed and caused a temporary delay in the action.
The delay happened in the eighth inning, long after Colby Lewis left the field, which is very good news for the pigeons. They basically marched right up to the pitcher's mound, and had they walked on the mound, it would have been a violation of one of baseball's most famous unwritten rules.
Remember the Dallas Braden-Alex Rodriguez fiasco from a few years ago?
There was no repeat of that, but the pigeons did seem to overstay their welcome rather quickly, at least in the eyes of Rangers players. Pitcher Roman Mendez appeared poised to bombard them with the rosin bag, and then third baseman Adrian Beltre took charge and shooed them away much the same way he chases off teammate Elvis Andrus when he tries to touch his head.crowd didn't really appreciate Beltre ending the impromptu entertainment, but at least the game was able to continue as the pigeons reluctantly relocated into foul territory on the first base line. They would remain in that general vicinity for most of the final inning, and thankfully neither of them met their maker like the unfortunate bird who once crossed Randy Johnson's fastball.
See, Beltre was just taking the best interest of the pigeons to heart. You might even call him a hero to the pigeon community.
 About Pigeon Patrol:
Pigeon Patrol Products & Services is the leading manufacturer and distributor of bird deterrent (control) products in Canada. Pigeon Patrol products have solved pest bird problems in industrial, commercial, and residential settings since 2000, by using safe and humane bird deterrents with only bird and animal friendly solutions. At Pigeon Patrol, we manufacture and offer a variety of bird deterrents, ranging from Ultra-flex Bird Spikes with UV protection, Bird Netting, 4-S Gel and the best Ultrasonic and audible sound devices on the market today.
Voted Best Canadian wholesaler for Bird Deterrent products four years in a row.
Contact Info: 1- 877– 4– NO-BIRD (www.pigeonpatrol.ca)